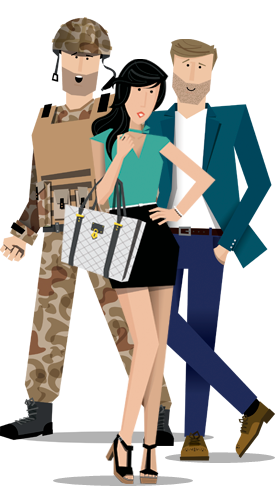 How to Have The Perfect Navy Date
Dating a sailor has been the subject of romantic daydreams for hundreds of years, and it's easy to see why. People in the Navy have that special air of mystery that comes from travelling around the world by boat, and of course they're doing a very important and brave job so they're often considered to be heroes. However, just like any other job in the forces, dating someone in the Navy has its fair share of complexities, such as long periods offshore, limited communication ability and varied shift patterns. But don't worry! At UniformDating, we've put together a guide to "the Navy date" and how to do it properly, so you're not lost at sea when dating a sailor.
Make the most of your time together. As you should know, dating a marine or other Navy professional means that there will be a lot of off-shore duties, some of which can happen without notice. As long as you accept that plans may have to be interrupted, you'll have a better time when they're rescheduled and you're both looking forward to it.
Stay in contact. If your date is overseas, they may not have access to their civilian accounts on board the ship for safety reasons. Make sure you have a note of (and permission to contact) their Navy email accounts to ensure you don't lose contact while they're away.
Be understanding of their working hours. It can be stressful to know that the person you're seeing works long hours, and your dates might consist of a few precious hours in the afternoon, but try and be as understanding as you can. After all, your "someone special" is spending what precious time they have with you.
Reasons To Date A Navy professional
There's plenty of reasons why you'd want to date a sailor, because whether they're a Marine or in another branch of the Navy, you'll definitely never run out of things to talk about (and they look great, too!)
They'll be in great shape – as you know, being fit is essential to anyone in the forces. Dating someone in the Navy means you'll be dating someone with a fantastic figure!
They wear one of the sexiest uniforms on the planet – everyone loves a military uniform, and the Navy one is no exception. If you admire a man or woman in uniform then you won't be disappointed with the Navy dress code.
They'll be good listeners – because they spend long periods of time with other people in small spaces, an important aspect of being in the Navy is the ability to communicate well.
The Navy Date Site
When you're in the armed forces, dating can be a daunting prospect for you as you contend with your date never having dated a military professional before, your awkward working pattern, and a whole host of other concerns that sometimes have to take precedence over your Friday night together. But no matter your role, that shouldn't stop you from finding love with the right person! Get the most out of your romantic life and check out our tips on dating as a sailor
Keep up with communication: it might be hard if you're in an area with little to no reception or internet access, but you can rest assured it'll be appreciated if you do as much as you can. Even just a simple "Hey, I'm okay" can keep the person you're dating from worrying, and it's something to enjoy in your quiet moments on board.
Date to suit you: know you can't make dinner on Thursdays? Plan something else instead, and share your duty hours (as much as you're allowed/able) to make sure your date has some idea of when you'll be free.
Consider dating other military singles: while it's not your only option, dating someone else who works in the forces can be an attractive option as you already understand each other's profession, restrictions and situation. Keep checking UniformDating to find other forces singles near you