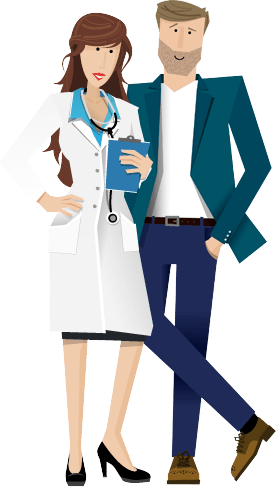 Psychologist Dating
True Benefits of Dating a Psychologist
Deciding on dating a psychiatrist is often a good choice. Psychologists are people, whose profession and calling require an understanding of the mental health problems of other people. Thus they know most of the unpleasant tricks our mind can play on us and how to deal with them.
Generally, dating a therapist, psychiatrist or psychologist (there are slight differences between all) is a worthwhile life experience. The sympathy and compassion of these people comes from their knowledge of the mental aspects of relationships (although that mostly concerns family psychologists). That's why dating them at least means that you won't have to worry about the psychological side of your communication. Psychologists know the backdoors to your mind.
At the same time, keep in mind that being yourself when dating a psychiatrist is important. The reason for this is simple: psychologists usually sense lies, insincerity, and all the hidden twists in your nature, so take it seriously if you are aiming for a long-term relationship.
Dating a Therapist: Subtle Pitfalls
It is true that psychologists do know how to calm people down. But there is a slight hitch. Sympathetic understanding and other things therapists and psychologists are really great at do not necessarily mean or guarantee their instant willingness to help you. Why? Let's not forget about the emotional overload they've got to face at work. You can't just count on crying on their shoulder each time you need it because they deal with the problems of many other people professionally. The latter can sometimes make even a conversational response a complicated matter for both of you. Bear this in mind when dating a psychologist: sometimes you'll have to solve the problems of your inner world yourself.
There's one more thing that you may find a bit annoying when dating a psychiatrist. Sometimes you might have a feeling that you're being examined, as if you were on the couch yourself. Take it as an advantage. A professional attitude towards dating and relationships is better than indifference or a sense of distance between you.
Psychiatrist Dating: a Couple of Tips
If you take into account all the pros and cons of dating a therapist, psychiatrist or psychologist, you'll see that there are just a few simple rules you should stick to. If you follow them, it will be easier for you to find common ground for successful dating with your partner.
First of all, always remember that a psychologist's work leaves them mentally tired. Learn how to provide your partner with a series of psychological safety valves. You'll find their gratitude for that truly priceless.
When dating a psychologist, don't expect them bring your thoughts in order on a regular basis. Although you'll feel a sense of psychological support, a therapist you date might not want to become your personal doctor. So, don't play the part of the patient. Sometimes the only person who can fix the problems in your inner world is you.
Last but not least. Remember that being able to understand others, psychologists very often need someone who will understand them and help them sort out their own feelings. Stay lucky, with psychology on your side!