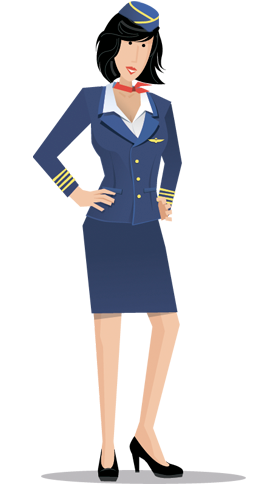 Cabin Crew Dating
How to Date an Air Hostess
With a job that sees them fly around the world, flight attendants have always had a glamorous image. It's no wonder then that members of the cabin crew, and in particular air hostesses are in high demand when it comes to the dating scene. With that in mind we've come up with a few cabin crew dating tips for those looking to meet the people who take care of us at 30,000 feet.
While flying around the world certainly has its advantages, it does mean that flight attendants are away from home for long periods at a time. With this in mind it's good to remember to make sure they can enjoy all the comforts of home when they're off duty. With that in mind, an intimate dinner in the house may just be the ticket.
Enjoying home comforts and having a love for travel aren't necessarily mutually exclusive so it would be good if you also have a desire to see the world. Having a few travel tales up your sleeve to demonstrate your passion for adventure wouldn't go amiss either!
Don't be jealous of their day-to-day lives. Travelling the world for a living certainly has its allure, but being an air hostess has its ups and downs too. Whether it's screaming babies or drunken passengers, there will be days when your job on solid ground sounds like a better alternative.
Reasons to Date a Flight Attendant
They keep calm in a crisis – keeping a plane load of people happy when you're five miles in the air needs a steady hand and a cool head, so chances are they'll be hard to faze in an emergency.
They've been everywhere – One bonus when dating a flight attendant is that you are unlikely to be stuck for holiday advice. Air hostesses tend to know the best 'hidden-away' destinations as well as the best way to get there.
They're well presented – Have you ever seen a scruffy flight attendant? We certainly haven't!
They get the best deals – While you won't want to be too obvious about this one, cheaper flights are one of the perks when working for an airline.
They're busy - while the long hours can be tough, it does give you plenty of time to yourself. This can let you enjoy your hobbies in your own time and it makes it all the sweeter when you do see them.
They know how to listen – Having a patient and attentive temperament is a must for someone working on an airplane, so chances are that they'll be a good listener.
They know all the secrets – Ever wanted the inside scoop about upgrades and getting that extra glass of bubbly on your trip? Well these are the people to ask.
Cabin Crew Dating
Being at the other side of the world from the person you're dating can be testing but there's no reason why your job should stop you from finding love. Our romance experts have put together a few handy suggestions to make dating a little easier when you're juggling your role as a flight attendant with your search for love.
Show off! Don't be afraid to impress your date with plane tickets to somewhere romantic. Spontaneous trips away are one of the most romantic things you can do, and your job makes this easier to arrange than most.
Remember that while you do have a job that's more intriguing than most, it's still important to take a healthy interest in what your date does for a living too.
While the extended hours can make it seem like you're away for an age at a time, this also means you get plenty of time off. Make the most of it by organising some romantic activities while you're on the ground.