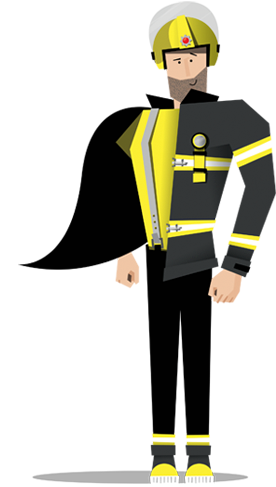 Dating A Firefighter
Tips For Dating A Firefighter
As one of the most heroic professions out there, it should come as no shock that firefighters remain one of the most desirable groups of uniformed professionals around. However, once you peel back the stereotypes you will soon realise that it's a job like any other with its own unique dating challenges.
With that in mind, what do you need to know if you're looking do date a fireman? Well, our dating gurus have decided to see what they could do to help and have come up with a handy guide to give you some insight into what you will need to keep in mind when dating a firefighter.
They can be on call for days at a time. So when you're starting out, try not to worry about a couple of days wait between texts!
Remember firefighting is a stressful job, risking life and limb is all in a day's work. So why not keep it light at first before you delve deeper into the day-to-day aspects of the job.
Learn not to worry: While it is a dangerous profession, the majority of a firefighter's life isn't dealing with raging infernos. They aren't putting themselves in harm's way every day, so try to remember that and relax!
Why Date a Firefighter?
They know safety - so your home will be fire hazard free before too long!
They're in good shape - due to the physical demands of the job, firemen have to keep very fit. Only problem is, you might have to start hitting the gym to keep up!
They drive a fire engine – let's be honest, who doesn't want a ride in one of those?
They work long shifts – while this can be tough, it does mean that they can also be free for days at a time, giving you uninterrupted time together.
Single Firefighter Dating
If you're a single firefighter looking to kindle a new romance it can be tricky given your schedule. That said, we like to think we know a thing or two about dating for those with unsocial shifts, and have come up with some tips and advice to ensure that you won't be a single firefighter for long:
Your glamorous job will no doubt impress your date, but it's important to remember to take an interest in what they do too.
Don't be too afraid to show off. Don't get too carried away, but remember that what you do is important and your date will no doubt be interested in the stories you have to tell.
It can be tricky when your days off clash with your date's. Why not take the time to prepare a little mid-week romance, whether it's a romantic dinner or something a little more original?