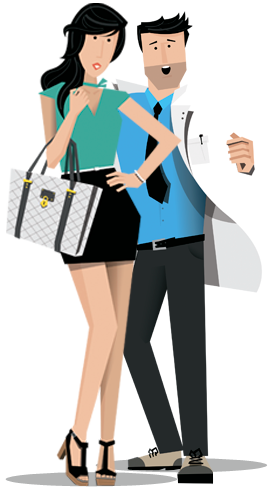 How to Date a Dentist

As one of the more unsung heroes of healthcare, it would be difficult to think where we'd be without the steady hand and expertise of our dentists. Anyone suffering from a toothache will certainly attest to that. However, sometimes we take their skills and compassion for granted, meaning that dentists can be wrongly overlooked as one of most eligible professions out there. With that in mind, we've come up with a few suggestions to help those of you who want to date a dentist and get closer to the people who protect our smiles.
Be inventive about date location and activities: Dentists may have a straight-laced image, but they can be anything from a bookworms to a bungee jumpers or both. Get the vibe from their dating profile, and plan accordingly.
Smarten up your own dating profile: Upload a flattering photo of yourself and add a little colour to your description so you have a better chance of meeting single dentists online. Be sure to flash those pearly whites in your picture!
Work out their shift pattern: Dentists might not work the same irregular hours as other medical professionals, but it's still a good idea to find out when their best times are for a date.
Most importantly, don't forget to brush your teeth before your date!
Reasons to Date a Dentist
Dentists usually have good people skills - being around patients all day, they are usually very patient people themselves!
They're trained and qualified professionals - meaning they're typically responsible and organised people.
They typically look after themselves health-wise and not just their teeth as you might imagine!
Dentists may give you a few tips on how to best look after your teeth but bear in mind they won't want to talk about work all the time!
They're usually good at listening – it's part of their job after all. Yet it goes without saying that you should take an interest in their social life too so that the conversation is not one-sided!
Dentists are typically punctual and prompt – so they should be on time for their date, provided they are not tied up in surgery!
Dentist Dating Site
When you're a single dentist with a busy career it can feel like you just don't have the time to go on a date. But chances are you may be over-thinking things. As a busy professional the best dating advice is to keep it simple, no-one is suggesting a long weekend away at the start of a relationship. Chances are that your date has a demanding job too, so the best bet is to take advantage of some of these informal date ideas to have fun and get to know each other at your own pace.
Try a picnic: Providing the weather is dry, this can be a great way of finding out what your date's favourite foods are, and to learn more about them.
Take in a film: Going to the cinema is a classic date idea for a reason, just make sure you fit in an after-show drink!
Retail therapy: Whether you're browsing or buying, a wander among the shops on a weekday could be a welcome break from braving them at the weekend, and it gives you the time and space talk to each other.
Food glorious food: There's no substitute to whisking your date off to a nice restaurant or café. Make sure you both order something you can get your teeth into!