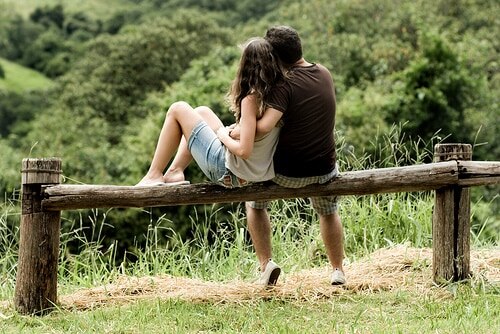 The holiday season is the perfect opportunity to get close to someone and learn all that you can about them. It's hard not to feel that certain tug at your heart strings this time of year and you want to lavish that particular person in your life with everything you feel that they deserve because money may be tight for one reason or another. Fortunately, planning a romantic date during the holidays doesn't have to cost you an arm or a leg. Instead, turn to some of these sweet ideas to sweep her off her feet on your next date night.
Take a ride looking at Christmas lights. What could be more romantic than sipping on some hot chocolate while touring through the neighborhoods with the houses decorated to the nines with beautiful Christmas lights. If your neighborhood doesn't seem to be lit up, you can search the newspapers for venues that have decorated. Some places have long stretches of decorated paths and roads that you could travel for a small fee per car load.
Look for colorful leaves. If you live in an area where it gets cold but there isn't any snow, you could gather fall leaves. Make sure that you choose a variety of colors and different leaves. Then when you get home, you can make collages, centerpieces for your dinner table, and other lovely crafts. Why, you could gift these crafts to loved ones — what a great way to kill two birds with one stone!
Make your own stockings. Your trip can begin at the local craft store. Choose some holiday fabric that may be on sale and look through the selection of baubles, glitter, sequins, bells, and anything else you can think of. Go back home, turn on some holiday music and get to creating your own unique stockings. When they are finished, you can hang them in a special place so that you can fill them with treats and stocking stuffers to be opened on Christmas morning.
You may not think volunteering is a good way to spend a date, but if you give it a shot, you may actually find that you and your partner feel much closer and better as people in general. This time of year isn't about what expensive gifts you can get and give to people, but it is about the togetherness and joy you can bring to other people's lives.
Go ice skating. This is a classic date option during the holidays. There you are, getting outside and participating in an activity where you have a reason to hold on tight to your date while you slink across the ice. It's magical, especially when the snow begins to fall.
Have a Christmas movie marathon. Pop some popcorn, lay out the fuzzy blankets, have your favorite treats and beverages on hand, and turn down the lights. Pop in your favorite holiday movies and veg in front of the television, snuggled up with the one you love. How's that for romance?
Cook a holiday dinner for two. There is something so satisfying about eating a home cooked meal that was lovingly prepared by you and your partner. Maybe it is the extra attention you paid to how the ingredients were cut, or how you made sure that the meal adhered to their specific dietary needs… But whatever it is, it meal is always so much better this way.
Take a trip to the Christmas Tree farm. If you haven't had an opportunity to set up your Christmas tree yet, you can take your date to a tree farm and choose your favorite tree to take home and decorate with your favorite ornaments and lights. It can be a nice tradition you and your partner share for future holidays, too.
Take a trip to the museum. Most museums have one day where you can access the museum for free, but it is a good idea to give some kind of donation. Since it is the holidays, many museums may even have holiday themed exhibits that you can lose yourself in.
Decorate your Gingerbread House. You could always use one of those premade gingerbread kits, but you could also go one step further and make your own gingerbread houses — it's a lot cheaper and you can make them how you want. Who doesn't love a little bit of creative freedom?