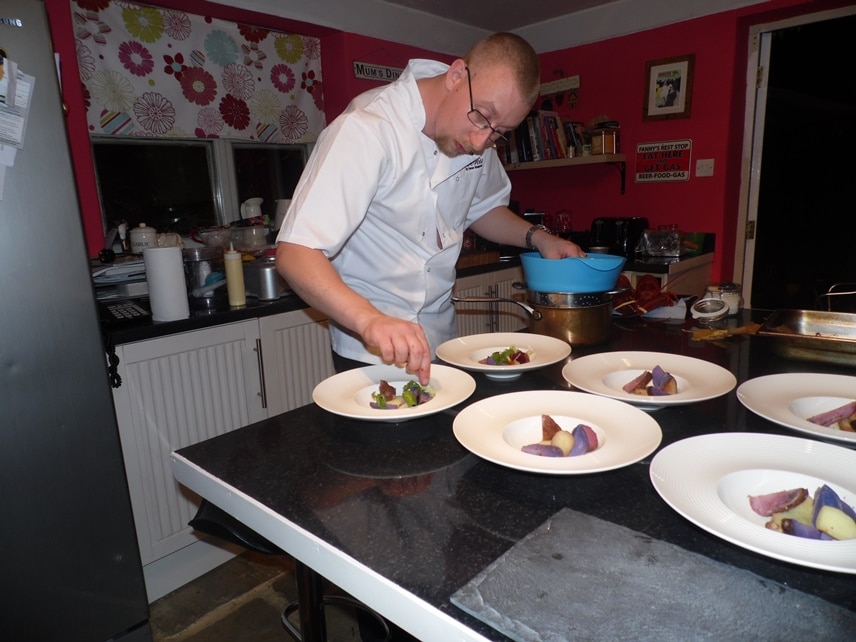 One family, one delicious prize and one great chef! Congratulations to Jacqueline Jax Roberts who won the Home Dining Experience, a competition run between Uniformdating and professional chef, Menu by Cavan Sheppard, on September 19.
Jacqueline shook off stiff competition from other finalists who uploaded their 'yummiest dish' via Facebook and Twitter, having been inspired by our Uniform Foodies App. And it was a tough, mouthwatering challenge for the UFD team to boil down and agree on who created the tastiest-looking meal!
Her winning dish was Crab Cakes in a Saffron Sauce.
"It was a pleasure to be able to cook for the family and their friends, especially since they are so interested in cooking and (eating!)," Cavan enthused. "I was given a very warm welcome, and it was wonderful to cater for the family and friends who clearly have an appreciation of nicely-cooked fresh food."
Jacqueline and her family gave Cavan a warm welcome when he arrived at their Northamptonshire home, with a glass of wine at the ready. In return, the family discovered that he had company when he pitched up. But it wasn't another chef:
Peering out of his van were two live, winking lobsters, purchased fresh that day from his fishmonger!
So what did Cavan cook up?
Appetiser: Cauliflower Veloute with curried potato.
Starter: Warm potato salad which included six varieties of potato, saffron mayonnaise and a Basil dressing.
Main course: Lobster Ravioli, Summer Truffle Sauce, Wild Mushrooms and shavings of fresh Truffle.
Desert: Orange Souffle with Orange Ice Cream
Petit fours: White Chocolate Fudge, Honeycomb and Baby Madeleines.
He also supplied wine and served no fewer than 35 dishes to the six diners, all painstakingly prepared between each of the courses. Menu by Cavan Sheppard not only had to be chief cook and bottle-washer, he also had to wash the 35 plates plus extra pots and utensils that he brought with him.
Showing her gratitude for the extra special evening, Jacqueline summed up: "When Cavan cooked for us clearly his love and passion for food shone through his dishes. The courses were exquisite and imaginative, the food fresh top quality, and great skill and flair were shown to make a great night of beautiful food so memorable. Fabulous!"