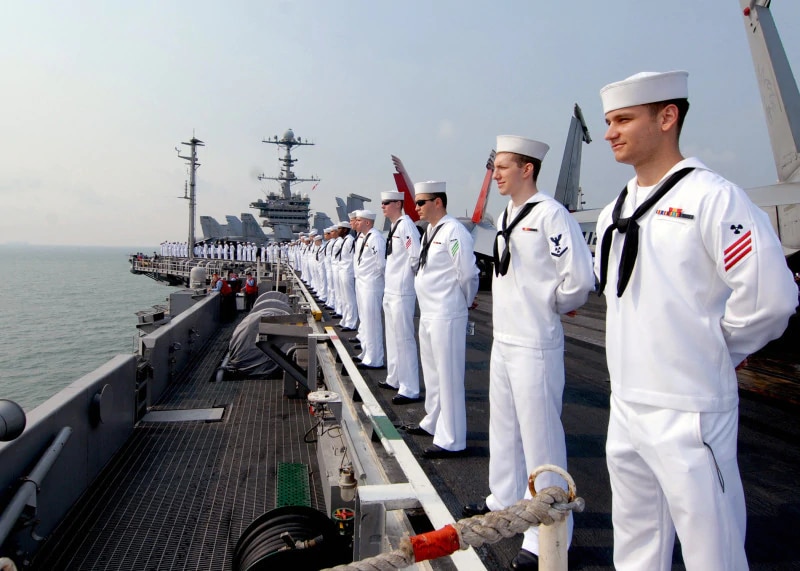 If you're looking to find your very own sailor, we've got five tips that will help you increase your success that will have them flocking to you.
Go Where the Men Are!
One of the most obvious ways to meet sailors is to go where they go! If you live near a port town, you can certainly stroll by the docks, but you can also hit up any restaurants, bars, and maybe even coffee shops along the way. Or, if you're fortunate to live in New York City, just hit up the West Side.
Wear a Seductive Sailor Outfit
After being at sea for months, you can be sure that the sailors will appreciate you showing up on the docks wearing an outfit that definitely will make them be glad to be back on land— and around women. You could wear a patriotic outfit choosing something that is similar to what the sailors wear or if you don't want to be too obvious, put on a pair of white bell-bottoms and say something charming like "I've got a flair for fun!"
Speak Like a Sailor
For instance, if you went into a bar where the sailors tend to frequent, you can call out, "Female in quarters!" to let the men know you've arrived. Or, you could find a way to work the word "skivvies" into the conversation. For example, you could be flirtatious and say that you buy all your skivvies at a particular store and always stay away from granny panties. If you want to play the dutiful patriot, you could say that you typically wear only red thongs, but for him, you'd gladly wear some stars and stripes.
Show Them your Sea Legs
When we say sea legs, we don't necessarily mean the way you handle yourself on a boat, but we mean your real legs. Be flirtatious and lift your skirt a little, showing them your perfectly smooth thigh. You can be a little more flirtatious by demanding to see theirs next. Think of it as "I show you, you show me" type deals.
Find a Sailor Pen Pal
If you aren't nearly as confident as some of the other suggestions in this list, you can always find a sailor online. These men, wherever they may be — tours of duty, stationed somewhere, or they are home on leave for a few weeks, tend to get lonely and they also are looking for someone to talk to. When you go online, whether it is a simple pen pal site or a uniform dating site, you should be able to find the man of your dreams.
You should know that by going the online dating route, you are opening yourself to a whole new world of dating. You need to be aware of the fact that when you start talking to sailors, they may ask for nothing more than a tangible letter. Send them a letter with your name and address. You'll be surprised by how much a simple letter will mean to a sailor, especially one who has been out to sea for any length of time.