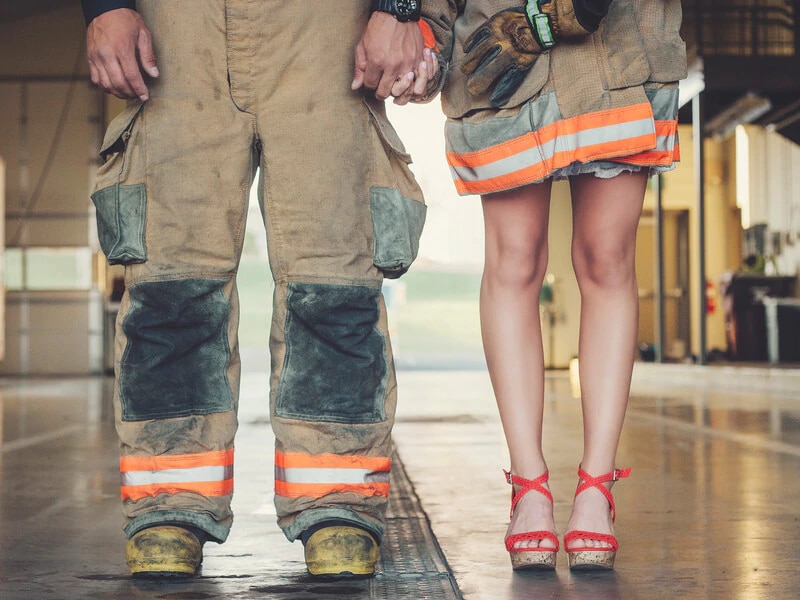 Firemen are some manly men, right? Here are a ton of date ideas that will appeal to him!
Sports Themed Dates
If your man is a sports fan, these dates will be right up his alley.
Go to a sporting event, either it is a professional game, college level, or even high school.
Get tickets to a highly anticipated game.
Plan a date to the World Series, especially if his favorite team is playing.
Go bowling.
Turn football night into a "fantasy" football night. *wink*
Play mini-golf or go to a real golf course.
Go ice-skating.
Have a private pool party.
Go hiking and pack a picnic lunch.
Go skiing.
Go to a paintball range and go wild.
Go to a car show and check out the cool cars.
Go to race, be it a car race or horse race.
Play tennis.
Date Ideas for the Foodie
If your man is a foodie, these dates will definitely appeal to him.
Try some food that you've never tried before.
Check out that newest restaurant or a hole in the wall.
Go to a food truck festival and sample an item from each truck.
Go on a mystery dinner date and see who can solve the mystery first.
Go to a fair or festival and grub out on the delicious fair food.
Take a cooking class together.
Go on a winery tour and sample some wine.
Host a Fear Factor type dinner party, complete with creepy food (or foods that look creepy).
Host a potluck couples dinner party.
Game Night Dates
Break out your favorite games and have a game night. If you don't have any games, here are some ideas.
Play video games together, complete with finger foods and snacks.
Pick a world record and try to break that record.
Watch a crime show and try to solve the crime.
Have a competition at the park with any of the park games.
Play truth or dare.
Play the price is right at home. The winner of the game gets sexy time how they choose.
Other Fun Date Ideas
Who ever said dates had to fit into a particular mold? Here are some other fun date ideas that you can try.
Go camping in the backyard.
Spend the weekend doing whatever your fireman wants to do.
Visit a town that is all about the old West, complete with cowboys, horses, and gunslinging.
Have them place you under arrest and submit to his will.
Turn off all electronics and use your imagination.
Your fireman will love this yummy and fun hunt all about him and a tasty treat!
Go to a concert where his favorite band is the front runner.
Go on an adventure tour — either bird watching, boating, or visiting a ghost town.
Create your own adventure date. Nothing is planned, you just do whatever looks interesting.