Whether you are new to Edinburgh or you just want some fresh new date ideas, you've come to the right place! UniformDating.com took to the streets and asked the locals their opinion of all things related to dating in Scotland's capital.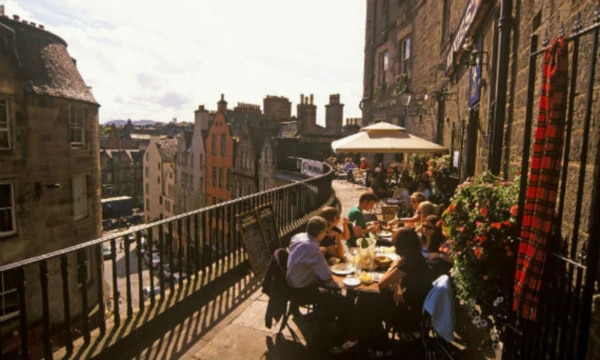 Q: How did you meet your partner?
This question received numerous answers. Some were co-workers, some were passers-by, friends set them up and so forth. When the people were asked if they had ever tried an online dating site, many of them had not, although they were in favor of it being a possibility.
Q: What uniform would you (or your partner) wear?
Ah, the fun bit! There is something incredibly sexy about someone donning a uniform—whether it is just for a little fun in the bedroom or it is for their career. We received many different answers to this question. Some of the most common answers include nurses, fireman, police officer and one creative soul even suggested a lumberjack!
We added on to that question and asked what is the appeal of a person in uniform. One of the responses really made us think. The gentleman said, "The uniform is a shell. It is supposed to rule out any singularity or individuality. And I think the challenge for everybody when they see someone in uniform is trying to find what ticks under the surface."
Although we never looked at it that way before, it does kind of make you look at those clad in a uniform a bit differently. Maybe the mystery just adds to their attractiveness?
Q: Would it be difficult to date someone in uniform?
There is no denying there it takes a certain kind of person to date someone in uniform. Most uniform jobs, like anyone in the military, police, or firefighters, face some kind of danger. The danger can be extremely difficult to deal with if you aren't prepared for it. When we asked the people of Edinburgh what they thought, there were mixed reviews. Some thought it wouldn't be any more difficult than dating a non-uniform person while others were more aware of the struggle that it could be.
Q: What is your favorite date spot?
When our people asked random passers-by what their favorite date choice would be, numerous people said they liked to go to nice restaurants. Edinburgh has no shortage of hot restaurants either. You can try Locanda De Gusti if you like Italian or Mediterranean cuisine. Of course, there is also Martin Wishart for a French dish, Castle Terrace Restaurant for good old Scottish delights.
Of course, not everyone said they'd prefer to wine and dine their dates. Some people said they liked to visit museums, the cinema, or just for a nice long walk. If you want to visit some place that is serene and beautiful, we fully recommended the Royal Botanical Gardens.
Click нere to see the complete street interview and in the meantime, tell us in the comments below your favorite local places to go on a date!