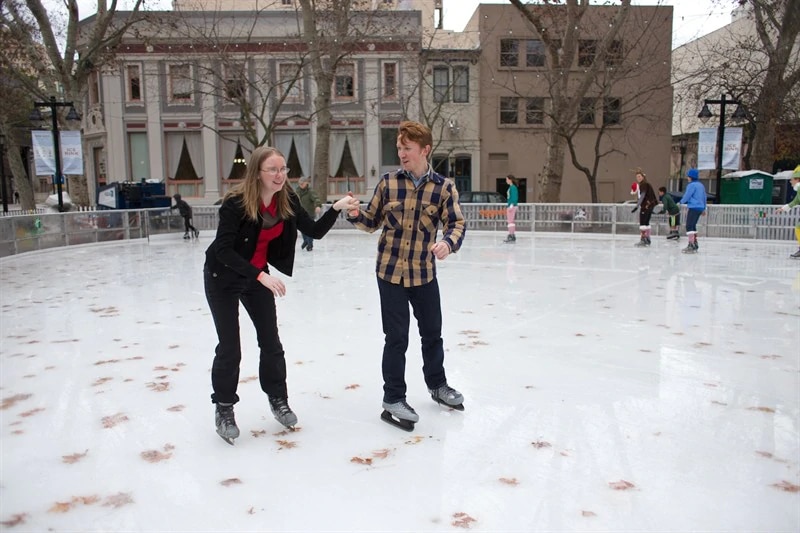 When you are dating someone who is familiar with the city of Sacramento, like a police officer, fireman, or even a military personnel who grew up in the area, it may be a challenge to find new and exciting date ideas.
Run to Feed the Hungry
Chances are if you are dating a fireman, police officer, or military person, they are in good physical condition, and if you both enjoy running, why not participate in a marathon where you can help people in need too? When you participate in Run to Feed the Hungry on Thanksgiving, you'll be supporting the Sacramento Food Bank and Family Services — plus you'll make room for all that turkey and stuffing when the race is over.
Go Ice Skating
Although the East Coast may have the Rockerfeller Plaza and colder temperatures that are perfect for ice skating, you can still enjoy the ice rink at the Westfield Downtown Plaza, which opens in November and you can enjoy the rink all the way until Martin Luther King Day. Of course, if you want to go skating in the middle of the summer, you can also visit the Skatetown Roseville. Here you can learn how to skate and even enjoy themed nights!
Sacramento Music Festival
While this particular date idea is only available during Memorial Day weekend, you can enjoy a wide variety of music styles such as: swing, rockabilly, jazz, bluegrass, and Latin music. This four-day event is a great way to experience new genres of music, people-watch, and just let down your hair. It's a perfect opportunity for people with stressful jobs to unwind and enjoy themselves.
Second Saturday
The social scene in midtown is rife with art galleries that are buzzing with people during the warmer months. These art walks are ideal for people who enjoy different art styles, people watching, and experiencing a variety of different restaurants along the way. You can also visit Fair Oaks Village in Fair Oaks for a similar vibe.
Moon Garden
Although you may not think taking a walk through a garden is a good date idea, it can be if you go to the Carolee Shields White Flower Garden, also known as the Moon Garden. The garden can be found in the UC Davis Arboretum. You will want to visit the garden at dusk so that you can enjoy the incredible mingling of fragrances like jasmine, orange, and myrtle. Oh, and can we just mention that when you're strolling through the gardens with the moon overhead, it will definitely evoke a romantic feeling that you may want to save for later in the evening.
Causeway Classic
If you or your date are football fans, you will definitely want to catch the annual football game between rivals, Sacramento State and UC Davis — a tradition for many locals. The schools are separated by only 3.2 mile wide causeway and have been rivaling one another for over 50 years. It is a must-do date, especially if either of you attended one of the competing schools!