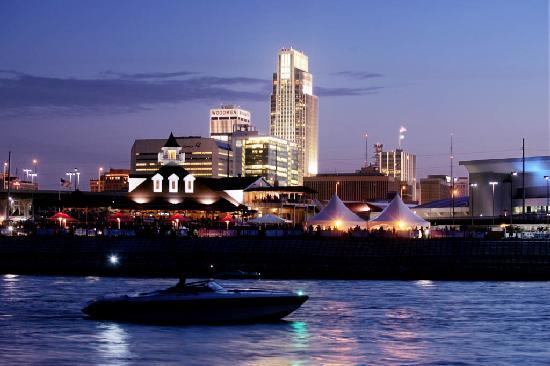 There's no doubt that your date is a hard worker, on top of being selfless and down for their community. Show them the time of their lives with a surprise date to any of these cool places and they will be putty in your hands — or at least feel invigorated and excited to see what you've instore for the next date!
Attractions
If you're looking to get out and about, you can always visit any of the amazing attractions in the city. For example, Henry Doorly Zoo is sure to be a thrilling date as you walk across a rope bridge that is suspended over the zoo's tropical rainforest. The zoo is incredibly interactive, as you can explore the indoor desert, venture through underground caves and come face to face with sea turtles while sharks swim above. Of course, if you or your date have a fascination with trains, you can get on a historic train car when you visit the Durham Museum. For something a little more low-key and give you a chance to get in touch with nature, you can marvel at the variety of fauna at the Lauritzen Gardens.
Performing Arts
Forget Broadway, Omaha has some fantastic places where you can enjoy a theatrical production. Visit the historic Orpheum Theater if you want to catch a Broadway production or view a local theatrical production. If you enjoy live music that isn't an indie band, the Holland Center for the Performing Arts is the perfect place to enjoy the Omaha Symphony. Let's not forget the Omaha Community Playhouse if you want to enjoy a high quality production in the largest community theater—not just in the city, but in the whole country. Your date will be able to sit back and relax while enjoying a production featuring some of the most talented performers around.
Dining
If you are tired of going to any one of the chain restaurants, you can surprise your date with a unique little spot for a bite to eat. Omaha has numerous places where the dining experience can range from completely unique and even quirky, to award winning steakhouse fare; because of course steaks are synonymous with Omaha after all! If you want to make a day of it, you can try a culinary tour. The tour highlights different historical neighborhoods and quintessential locations that define the food scene in the city. The tour will allow you to sample between 5 to 7 restaurants that are owned by locals, and they will teach you about the city's culture.
Live Music
Indie music lovers will love the live music scene in the city, as it is home for artists like Conor Oberst and The Faint and Cursive. There are numerous clubs that promote indie bands and the 18,300 seat CenturyLink Center attracts some of the top acts currently on tour.
When you combine any of these ideas into one super date, you can be certain that your date will go well and maybe even be one of the most memorable dates they have. Just use your imagination and keep your date's interest in mind when planning!