So you've landed yourself a date and you want to do something special, but you don't know what to do. It's okay, we've all been there before — especially if you want to impress this person. Sure, you could always go with a dinner and a movie, or go out for a few drinks at some local dive bar… But that is not very impressive. Save those humdrum dates for one of those nights when you just want something to do, months down the road.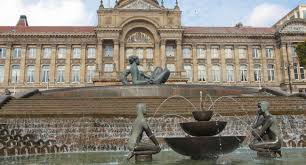 No, we have some exciting date ideas for those who live in Birmingham, or close by.
1. Grand Prix Karting
Adrenaline junkies will love this particular date. As one of the most famous tracks in the United Kingdom, Birmingham Wheels is a great place to go if you or your date ever wanted to try go-karting. Fellas, just be sure that when you race your date, that you don't just "let" them win, because what would be the fun in that? When you book your date in advance, you will receive safety gear and a post-session analysis.
2. ThinkTank
Get your inner science buff excited for a day trip to the ThinkTank. You can begin the date by exploring the interactive exhibits and then stroll through the Science garden. You can end the date by gazing at the stars in the huge planetarium. If either of you like plans, you can check out the Spitfire Gallery and learn why it stood out from other planes.
3. Reader's Delight
For those who love literature, you can visit the birthplace of Shakespeare in Stratford. Yes, while it is not a destination in Birmingham, you can travel the Shakespeare Express. The old steam train will provide you with a meal in the afternoon while you enjoy the beautiful scenery along the way. If you aren't a fan of Shakespeare, you can also go on the Tolkien Trail. This tour will take you to some of the places that gave him inspiration. For example, The Two Towers is believed to be inspired by Perott's Folly. Who knows what other cool places serve as Tolkien's inspiration?
4. The Jekyll and Hyde
For a different take on the typical bar scene, The Jekyll and Hyde is offers you a quirky and interesting setting that will certainly charm the pants off of your date. The drinks at Mr. Hyde Bar come in candy jars that are decorated with gumdrops, candy canes and other delicious sweet treats. After you've had a few cocktails here, you can head over to the artsy beer garden.
5. The Electric Cinema
Take a trip back into time when you visit one of the oldest operating cinemas in the country. Though a movie date isn't that amazing, the Electric Cinema is definitely the exception. It has a simplistic bar that is styled from the 1920s and it is complete with waiter service and comfortable sofas. If you don't want to catch a movie, you can catch special events like all day movie marathons, foodie film clubs, and even a horror-film festival.