Sexy men in uniform popping up in my social media newsfeed? Yes, please. Most of us wouldn't kick the "hot felon" out of bed…that is, unless the officer in pursuit of him was even hotter. Take these ten most handsome cops on social media, for instance.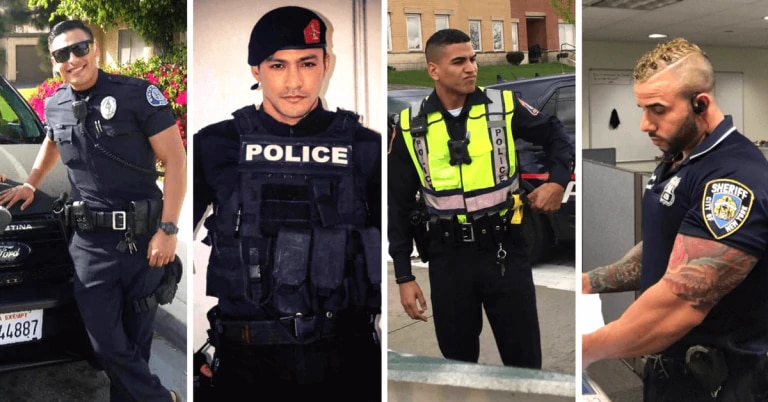 1. Ricky Urena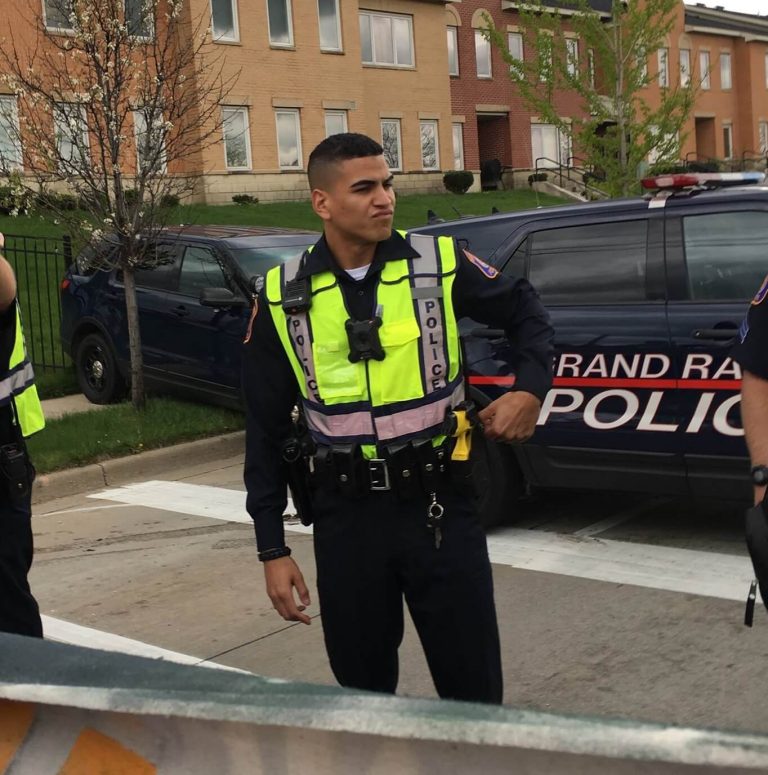 Credits: Denise Garcia / Facebook
From Grand Rapids, Michigan, Ricky Urena made waves when a photo of him was posted on social media. Ever since, the image has been shared thousands of times.
"I started hearing about it from friends of mine who started texting me," the officer said. "I started getting a lot of Facebook messages."
The hot cop is passionate about serving his community…a passion that likely translates to the bedroom.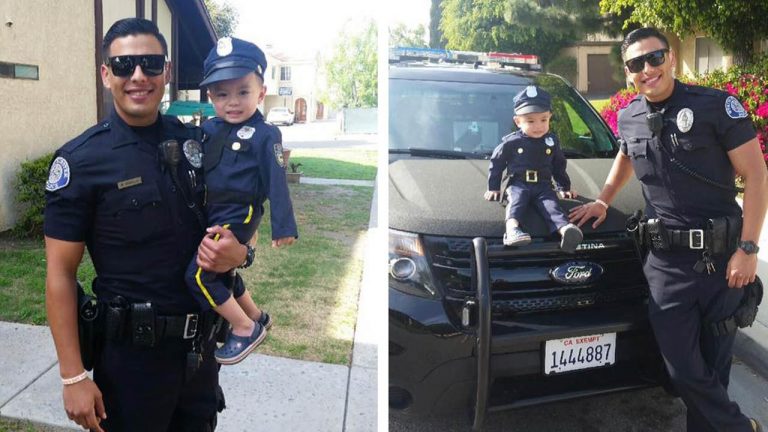 Credits: Westminster Police Department, CA / Facebook
Hailing from the Westminster Police Department in California, Officer Miguel "Mike" Gradilla was sent to visit three-year-old Minh Tatun Khang, whose parents had asked their local police station if Minh could meet a cop. The kid was a big fan of cops.
Not only did the station send a cop, they sent the sexiest cop on the force. They posted a pic to social media about it, and women went wild.
"I need help! Call 911 and have this officer rescue me!" one woman wrote.
In his down time, Gradilla volunteers at the Boys and Girls Club and coaches kids' sports.
Good looking, with a heart of gold? Swoon!
3. Ifzal Zaffar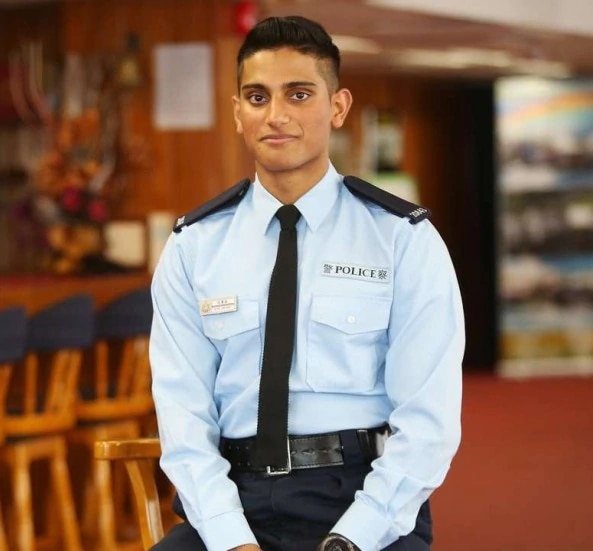 Credits: South China Morning Post
Not every hot cop lives in the Western Hemisphere. Hot Hong Kong officer, Igzal Zaffar, set women on fire when his pic was posted on social media, after he talked a man off a ledge…literally.
A man was planning to commit suicide by leaping off a crane, but Igzal Zaffar convinced him to climb down to safety. With looks like that, I'm sure he could convince anyone of anything.
"I used the techniques we learned at the academy…" the hero said. "I think he felt safer knowing that I could talk to him in his own language."
As the news appeared in everyone's social media feed, he soon was labeled "Hong Kong's most handsome police officer."
Agreed.
4. Steve Karisa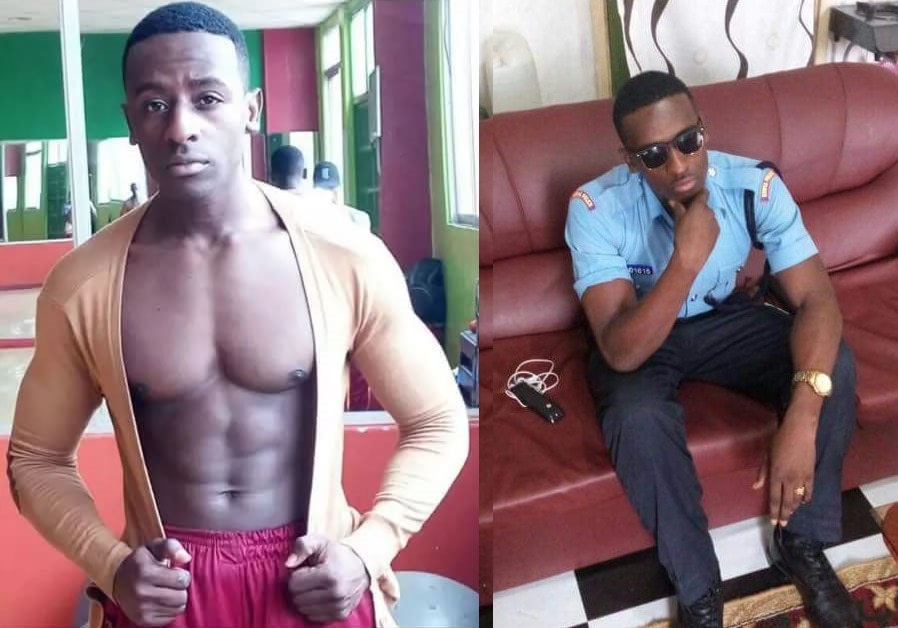 Credits: zipo.co.ke
When his photo was posted online and went viral, this officer's well-built gym-body didn't go unnoticed by many, with hundreds of shares, comments, and likes.
But not all social media attention is positive.
Hot cop, Steve Karisa, is afraid he'll be fired for being handsome. The 28 year old said, "The social media attention has put me in a tough position. I know there is a bombshell that will drop on me which will either lead to a transfer or I lose my job."
Let's hope he won't be fired, because the force will need Karisa soon. I'm sure there will be an uptick of misdemeanors in Karisa's jurisdiction – women hoping to be cuffed by McSteamy.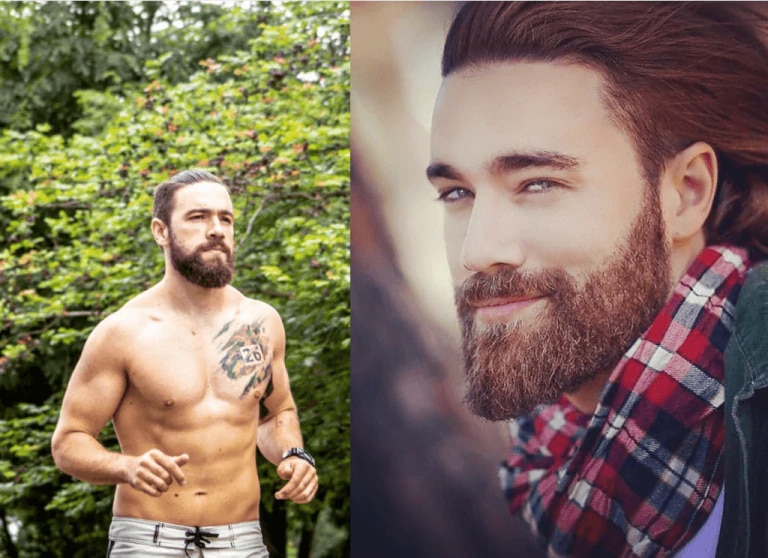 Credits: @valenca26 / Instagram
Down under in Brazil, officer Lucas Valenca turned heads when federal deputy Eduardo Cunha was accused of corruption, tax evasion, and money laundering, and was arrested. Valenca was photographed alongside the politician, and social media didn't miss him.
The plainclothes hipster cop was wearing black boots, a black t-shirt, dark blue jeans, a sexy beard, and a man bun. Previous to this, he'd already become a big hit on Instagram, and his status climbed since the photograph went viral.
"So thankful that the newspaper reported this beauty!" one user wrote.
"I do not know how to deal with such perfection," another said.
Neither do we.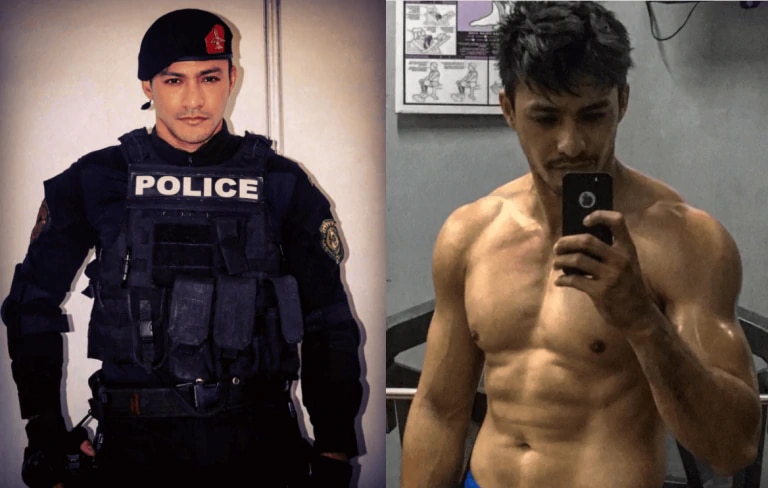 Credits: @neil23perez / Instagram
This police officer from the Philippines didn't fall far from the tree. His father is a police officer and couldn't be prouder.
But it wasn't the hot cop's police officing that got him noticed. The physically fit officer entered the 2014 Misters of the Philippines contest to get rid of the stigma of the pot-bellied policeman.
On Facebook, Mariano has thousands of fans and followers, which I'm guessing climbs exponentially with every photo he posts.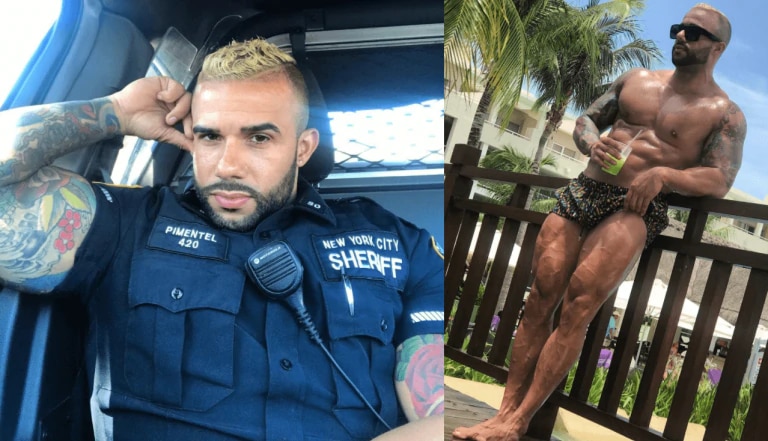 Credits: @officialpimentel / Instagram
This NYPD cop on Instagram is one of the buffest, most tatted-out hunks around. The sexy cop posts regularly for his many followers to lust and commit crimes over. Become a follower and maybe, just maybe Miguel will cuff you someday.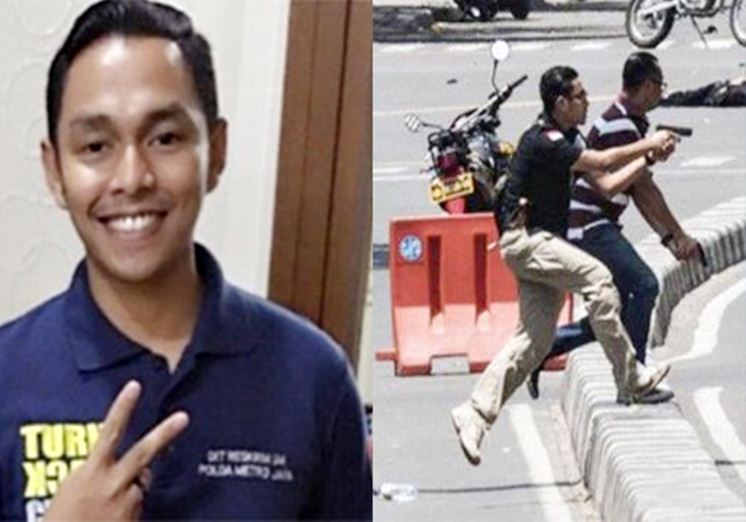 Credits: suaramerdeka.com
In the wake of a terrorist attack in Indonesia, this hot cop broke Twitter. The hashtags #KamiNaksir (We have a crush) and #PolisiGanteng (handsome police) started to trend after footage of Teuku Arsya Khadafi, a cop who looks like he walked off a movie set, appeared online. He seemed to inspire bravery amongst the locals as #KamiTidakTakut (We are not afraid) also started to trend.
PhD student and blogger Herman Saksano wrote: "This is one of the world's largest terror attacks in the world's largest Muslim country since 2009. However, people in Indonesia refused to be intimidated by fear and terror. They decided to laugh at the terrorists and move on with their life. WE ARE NOT AFRAID."
Maybe officer sexy had something to do with scaring off that fear.
9. Mr. Biceps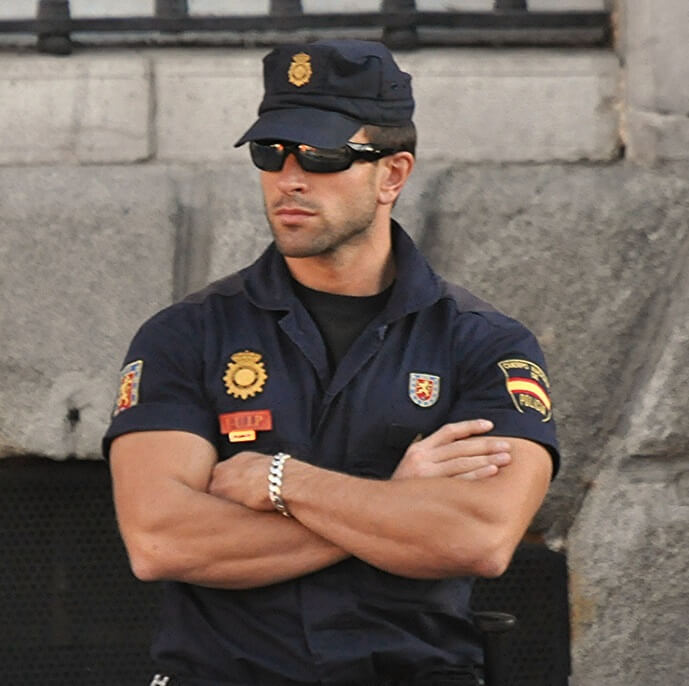 Credits: Flickr
We don't know the true identity of "Mr. Biceps" from Spain, as the Spanish police force are keeping it mum for security reasons. But, believe me, the Instagram pic of this Spanish beauty has turned plenty of heads.
"You and your security needs are our reason for being. If you need us, call us! 091 Police," the Instagram image reads.
Oh, don't worry – with those biceps and that gorgeous square jaw, we'll be calling.
Needless to say, the Policia Nacional's account now boasts upward of a million followers.
10. Ryan Koh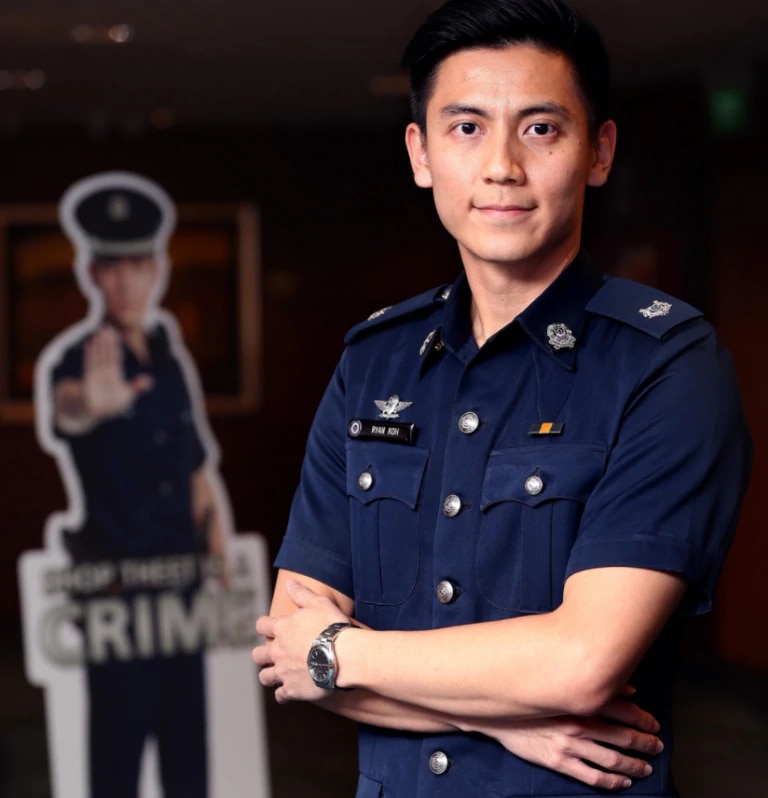 Credits: asiaone.com
Singapore has its own propaganda hot cop – Ryan Koh. The handsome cop has appeared in promotional anti-crime and anti-shoplifting videos and has since become a popular meme.
For five years, Koh has been in the force as an investigation officer at the Criminal Investigation Department. Koh receives an insane amount of internet buzz, but it hasn't gone to his head.
"As long as the attention it gets can be channeled towards the crime prevention message or even towards recruitment efforts, it's a good thing for the organization," he said. Now that's taking the call of duty very seriously.
Hot men in uniform aren't a new thing, but the Internet sure makes everything more interesting.
Meet handsome cops within the confines of the law on UniformDating!