By Andy Moore
Stewardess Randy: 'Excuse me sir, there has been a little problem in the cockpit…
Ted Striker: The cockpit? What is it?
Randy: It's the little room in front of the plane where the pilot's in, but that's not important right now.'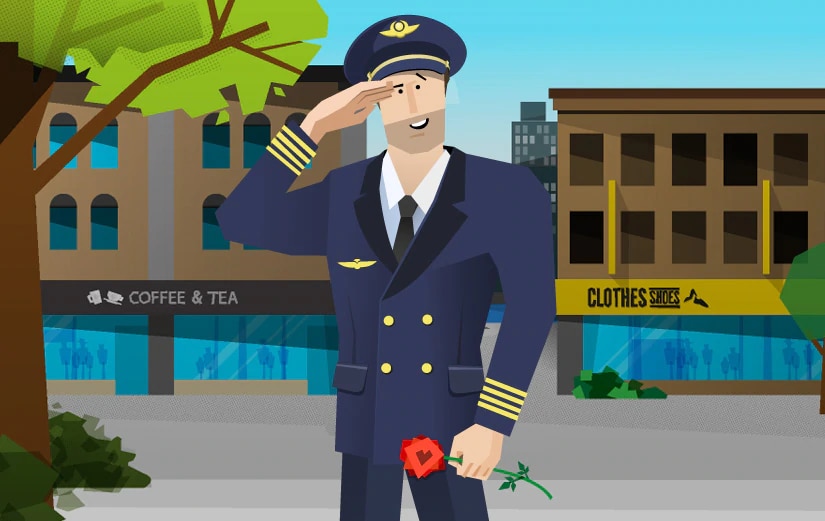 Ah, the good-old slap-stick film, Airplane. Those who know it and like it may grin inwardly at the plot where Ted Striker endeavours to land a stricken plane, flying from Los Angeles to Chicago, in place of the pilots who succumb to food poisoning.
But flight-phobic Ted has another mission: to board the flight and win back the heart of his former girlfriend, Elaine Dickinson, who dated him when he was fighter pilot.
So, Shirley, which aspects can you consider when dating a pilot? Here's a few:
Duck…
No, not the web-footed variety – but keep your head down. Hopefully, you'll not first encounter a pilot crashing a 707 through a terminal building. And, if meeting him at the airport, arrivals might be a less-fated location as departures could be an omen…
No baggage…
Don't bring baggage. Ted is determined to woo his former sweetheart but he is clearly a man with baggage, harbouring a fear of flying, although he checks in none to pursue Elaine who is on board as an air stewardess.
Control your nerves…
Dating a pilot can be a nervous experience, especially when confronted with a male or female pilot, resplendent in their flying attire so try to keep a grip; just like Ted does on the joystick when he eventually lands the plane. However, he is a nervous passenger:
Old lady: 'Nervous?
Striker: Yes.
Old lady: First time?
Striker: No, I've been nervous lots of times.'
Stay alive…
Beware that on your date with your pilot you may end up dancing with him – but not just a slow dance, more trying to stay alive. Ted has fond memories of one his dates with Elaine in the 'Magumba bar in Drambui, off the Barbary coast' where he enthusiastically throws her about the dance floor, gyrating to the Bee Gees, Staying Alive scene.
Stand by your man/woman…
'Believe' in your date and your love wings could take flight. Elaine doubts Ted's ability to land the plane, assuming he hasn't regained the confidence to touch wheels to tarmac. However, with a little coaxing, and copious amount of sweat and toil, he manages to land flight Chicago 209-er, and complete his mission to win back Elaine's heart.
Keep your options open…
Ok, some pilots might be easy on the eye, especially when wearing their caps, but you don't have to restrict your choices to those wonderful men and their flying machines. Remember that females are no strangers to the skies with around 450 women serving as airline captains globally, although just 5% are pilots of 53,000, according to the Air Line Pilots Association.
But if a reformed military fighter pilot does not appeal, the universe could be your oyster in the shape of a space fighter pilot in a galaxy far, far away…
Lastly, have you considered dating another uniformed professional such as a police officer, firefighter, a military professional or a nurse or doctor?
Decisions, decisions…