The Roman philosopher Seneca once commented that "You learn to know a pilot in a storm". Well, he was talking about wooden ships rather than planes, and maybe a storm isn't everyone's favourite analogy for the perfect relationship. But surely there's something to be said for a partner who can weather a crisis or two and come out the other side wearing creased whites and buffed brogues. This is why there are serious benefits to dating a pilot.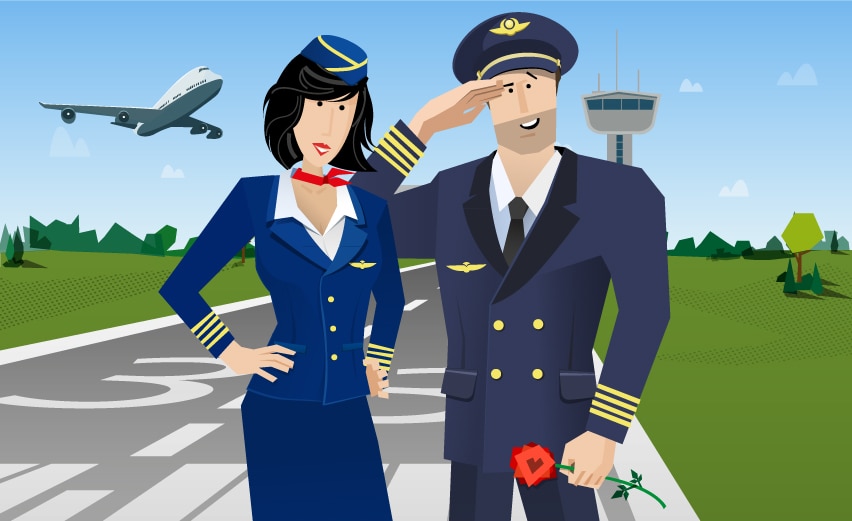 Why date a pilot?
If you really need to ask, perhaps you'll never understand that special allure that can't quite be put into words. Pilots might not face the same dangers they once did, or indeed be quite as glamorous, generously paid, and rare as they once were. But – whether flying for British Airways or the Red Arrows – they still do a job that many of us struggle to understand the basics of, let alone imagine ourselves doing in the real world.
When was the last time you felt nervous about boarding a plane? What about that familiar surge of take-off jitters? How would you feel about being in charge, up there at 30,000 feet, when something goes wrong?
It starts with trust
We trust pilots because we have to, and when you think about it, that trust is well placed in the vast majority of cases. Trust is possibly the most important characteristic of a serious relationship. No prizes for guessing that it's one of the reasons why we think dating a pilot has its appeals.
Professional aviators have other appealing and highly datable characteristics too. A good education, physical fitness, and a (usually) steady job always help. But what's unique about pilots is the fact that they've often seen a lot more of the world than the rest of us. So we're talking about a well-travelled, trustworthy and presentable partner.
It's not just a man's game
Don't go thinking that these pilots are only out there for those of us who fancy men. Women are in charge up in the air too, and have been for some time. The Red Arrows saw their first female pilot – Flight Lieutenant Kirsty Moore – flying back in 2009. And while aviation is a career which draws an increasing number of women to its wings, don't forget that history is rich with accomplished female pilots from Amelia Earhart to Beverly Burns.
But it's not all a bed of roses…
Excitement, danger and romance aside, pilots do have challenging careers, and these challenges have a direct effect on relationships. Like many uniformed professionals, shift work goes without saying. And shift-work often means long periods away from home and unsociable hours, particularly for long-haul pilots.
But this won't be a problem for everybody. There are many careers, from medicine and police work to the military, which challenge relationships in a similar way. We know from experience that there are many couples out there whose lives work around these challenges to make the most of their relationships. And in our opinion and experience, the pros heavily outweigh the cons.
Find a pilot to date on Uniformdating.com
Interested in dating aviation professionals? They're easy to find on Uniformdating.com. Log in and click on the "Search by Profession" menu; choose "Flight Attendant/Pilot", click search, and find out instantly who's nearby and looking for a date.