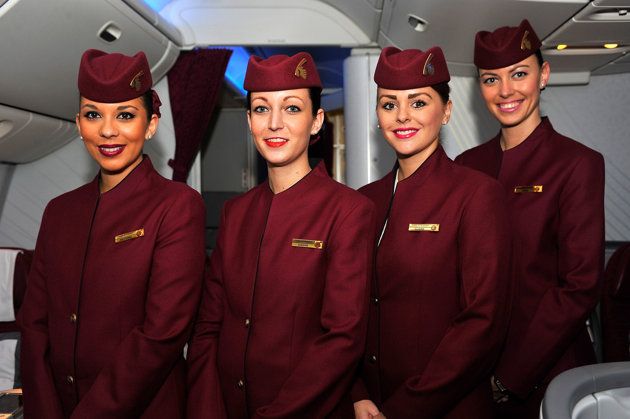 Air hostess dating is one of the most intriguing things any guy can ever think of. Why? This is because these sexy females have great interpersonal skills, can converse well, and in look incredibly attractive and glamorous. As they are interesting, inquisitive, open-minded, and fun individuals, they develop a sense of attraction in most guys (one of the main reasons why guys are so eager on dating them). Apart from this, here are a few more reasons why guys are so enthusiastic about dating an air hostess or flight attendant:
Work On Shifting Schedules
Most guys are keen on dating a flight attendant because they think it requires less commitment. It isn't clear why air hostesses have negative stereotypes, but guys believe they are easy to get into bed (even though they aren't). Since these cabin crew members also have to work on flexible schedules, most guys consider it easy to break off any long or short-term relationship with them. After all, men will be men (but there are good guys too who will put in the time and effort into understanding your schedule to spend more time with these glamorous ladies).
Incredibly Fun to be Around
As mentioned earlier, flight attendants are open-minded and fun to be around. They lead exciting lives and are gifted a lifestyle which allows them to experience the whole world. You will never get bored when dating an air hostess, especially because they have so many funny stories to tell that will make you laugh. Their wanderlust also influences many and this is why guys love the simple thought of dating an airhostess.
Understanding, Calm and Patient
Flight attendants are trained to stay calm and patient in emergency situations. Their communication skills can prove beneficial in handling complicated relationship problems (another attractive quality for most guys). They also deal gracefully with all sorts of people, ensuring they get along with all your "guy" friends. Apart from this, these ladies also have a proven sense of adventure which intrigues many guys into finding more about what they love or hate.
Real-Life Experience about Different Situations
Flight attendants face danger on a regular basis, which means they have plenty of real-life experience of different scenarios and emergency situations. This means they have a lot of experience about dealing with different people and add that to the organized, punctual, and efficient qualities, they can prove the best dating partners.
Last, but not the least, flight attendants wouldn't last long without strong understanding and people skills. These skills are crucial for ensuring a lasting and healthy relationship (that most stable middle-aged guys are looking for).