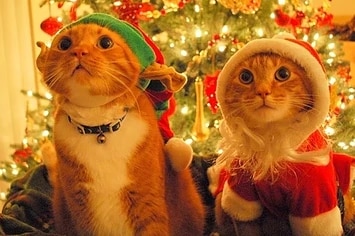 For many relationships, the holidays can either make or break the relationship. There's just so much pressure involved, what with family events, Christmas parties, friends, gifts, and even alcohol. All of these elements contribute to the stress many couples feel and they even have a way of shaking the faith of even those who are deep in love. Instead of thinking you will let things take it's natural course, be proactive and take control of the situation.
Ideas to come out of Christmas triumphant
Buy (or make) a fresh wreath
If you are Jewish or you just aren't fond of wreaths, you just need to find some kind of sign that shows her that you are willing to help her decorate. This means that you can purchase a non-religious item, like a wreath to help make your home feel more festive. This may not be an extravagant gesture, sure, but it is still something sweet that will have her over the moon — especially if she loves this time of year.
Create a morning beverage that makes you feel good
During the colder months, we all like to sleep in late and snuggle under the blankets. You can take this opportunity to slip out of bed a little early and prepare her favorite morning beverage (coffee, tea, or hot chocolate) and put a little something extra special in it. Good choices for holiday beverages include a little bit of peppermint in your hot chocolate, some cinnamon and nutmeg in an apple flavored tea, or maybe a little bit of mint-mocha flavoring in her coffee — whatever it is, these small little details will surely catch her attention and she will appreciate your extra effort.
Massage her feet with a good quality peppermint foot cream
After a long workday, the lady in your life may be yearning for a good foot rub. When she walks through the door, turn on some calming holiday music, lead her to the couch and lie her down. Pour her a glass of wine and slip off her shoes. Take a bit of warmed peppermint foot cream and massage her feet thoroughly. Keep in mind, this is about her, so don't try to sleep with her within the first five minutes, if at all. You'll find that when she is thoroughly relaxed and feeling heavenly, she may be more than appreciative for your effort.
Gifting her family
If you really want to make her Christmas special, ask her what gifts she things your parents would enjoy. Go out and get it. However, instead of throwing it in any old holiday bag, take the extra step and get it wrapped professionally. While it may seem a bit over the top, this extra effort will go a long way with her and score you some brownie points with the in-laws.
Book a beauty appointment at her favorite salon
There are so many parties going on this time of year, your woman will want to look her best. While she may not be able to dress up for every single one, book a trip the salon where she can get pampered from head to toe. Surprise her with an appointment right before the most important party or event and let her be pampered, so that when she goes to that event, she is stunning and feels amazing.
Help with the holiday cards
Filling out Christmas cards is something not many (if any) people like doing. It's time consuming, tedious, and it can feel monotonous after a while. Simply offering to help fill out cards will score you big time brownie points. However, when you actually sit down with a stack of cards and get to writing? Oh yeah. She will be so happy that this particular task is done much sooner than usual — thanks to you.
Assist while you're waiting
It takes a while to get ready to go out to a holiday party, so instead of wondering when she will be ready to go, be proactive. You can refill the water in the tree, make a little snack for the trip, or maybe fill up the gas in her car. You want to avoid adding more stress during the holidays and everything you do to reduce the stress will help things go much smooter.