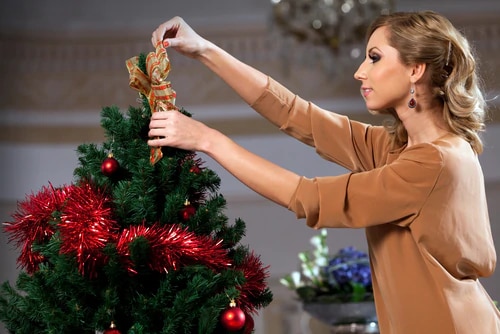 While most singles are dreading the moment when they have to decline a holiday party invitation because they don't want to be the only person going stag. Well, that's what they think anyway, that they will be the only single person there. Though it is true that the holidays are generally times when you want to spend time with your beloved, it doesn't necessarily mean that singles should feel excluded from these festive events. In fact, perhaps these festivities are where you should be.
Sure, the holiday songs are incredibly cheery during a time when you may not be feeling so happy, and those stolen kisses under the mistletoe may make you want to gag… Oh and let's not the merriment the drunkards are having at the office party, but these things needn't drag you down. You've got your family and friends to cheer you up. There are some very good reasons why you should be embracing your single status this year.
Don't believe us? Continue reading!
Spend money on yourself for once.
Generally when we are in a relationship, we are racking our brains to try and figure out what to get our significant others. We are so concerned about their happiness, we are willing to go to any lengths to make it happen, all within budgetary reasons of course. However, since you are single this year, you can focus on what you want this year. Take the money that you would normally spend on your significant other and spend it on yourself. Buy that new piece of tech that you've had your eyes on, go on that lavish weekend getaway with your best friends, even give yourself a make-over complete with a new outfit. You've worked hard all year so why not treat yourself?
You don't have to become a hermit.
Yes, the holidays is the time that you will usually see loving couples stealing kisses under the mistletoe or gushing about this or that at holiday functions; however, this doesn't mean that you should relegate yourself to being a hermit this year! Oh no, no! Instead, embrace the fact that you are able to go to any holiday function you want and flirt with whomever you wish (whomever is single that is…), and even kiss multiple people under the mistletoe. Let's not forget the possibility that on one of these outings, you could meet new people and maybe find someone that you may want to spend the New Years with.
Revamp your online dating profile.
You should take this time to update your dating profile. Use current pictures from the office holiday party or you can talk about some of the interesting things you've done in the past few months. Everyone loves to hear about traditions they may have, as it helps the other person get a sense of how important family and the holidays are to the person they are reading about. This is the opportunity to start off the new year with a new version of yourself.
Do whatever you want to do.
During the holidays, couples complain most about not getting to do what they want to do. There is often two sets of families that have to be visited and they can't stay at any one home for all of the festive activities. For example, when you're part of a couple, you may not be able to partake in decorating the Christmas tree on Christmas eve with your family because your partner may want to go caroling with their church group. However, now that you're single, you can go where you want and enjoy spending time with whomever you'd like.
Go to at least one singles' party.
Contrary to what you may believe, you aren't the only single person this holiday season. This time of year is, perhaps, the best time of year for singles parties — partially because they are all looking for someone that they connect with and possibly bring in the new year with. You can always bring one of your friends to play wingman just in case you don't feel comfortable approaching someone new on your own. When you are able to let down your guard at one of these events, you just may surprise yourself by having a good time and maybe even flirting with a few cuties.