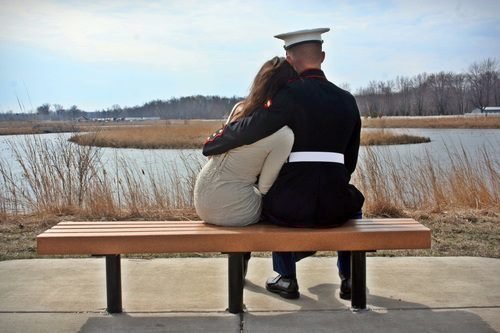 Dating any person from a different profession can prove a difficult experience for many, particularly those in a relationship with a marine. They are highly trained and specialized members of the armed forces of any country and come with a great deal of responsibilities that have to be followed at all times. They also have a different kind of temperament and set of priorities, which can often making dating an intricate experience. So, if you are thinking of dating a marine or just started dating one,...
...here are a few tips you should keep in mind:
Follow the Rules – Yes, Sadly There are Rules
Unlike dating someone with a regular job, getting into a relationship with a marine isn't an easy task. These trained members of the armed forces have to follow a code of conduct in the public, which means you have to understand and respect these traditions too. This includes toning down PDAs, like holding hands, hugging or kissing, while together at special events (keep in mind this doesn't mean your guy doesn't love you or won't come close willingly).
Learn the Marine Lingo – Tell Your Man to Teach You
It can often prove difficult to understand what your man is saying because of the unique set of terms and expressions they use in the marines. So, to ensure you understand everything your date says, consider learning the lingo. For example, "dog watch" is a term used to describe watch duty shifts that last from 4 PM to 8 PM. The military time also operates on a 24-hour clock, with midnight being 0000 and morning hours noted as 0100, 0200, 0300, and so on. Also try your best to make friends with other marine spouses and get involved in the community. This way, you won't sit around clueless regarding where he was going and what he was doing and can stay updated about recent events.
Know the Marine Corps – Respect the Bond of Brotherhood
Similar to the Air Force, Navy, and Army, your marine boyfriend is part of the Marine Corps, which functions under the Department of Defense. Try learning as much as you can about the job of your partner. Being aware of the traditions and functions will not only help you understand what your man is going through, but will also enable you to secure and establish a successful long-term relationship. Keep in mind to never talk bad about the bond of brotherhood and never make your guy choose between you or his job.
Be Mentally Prepared For Long Absences – Be Strong and Patient
Last, but not the least, the most important challenge you will face when dating a marine is getting used to those long trips and absences. Your man could be sent away for fighting in a war, training, or even schooling, without prior notice. So, prepare yourself emotionally and try to be as strong and patient as possible. Moreover, use all methods of communication to stay in touch. This means, using email, cell phones, satellite phones, etc. Just be ready to give support through all the military responsibilities and be proud of your man!
So, now that you are familiar with the tips mentioned above, dating or marrying a marine won't be a problem.