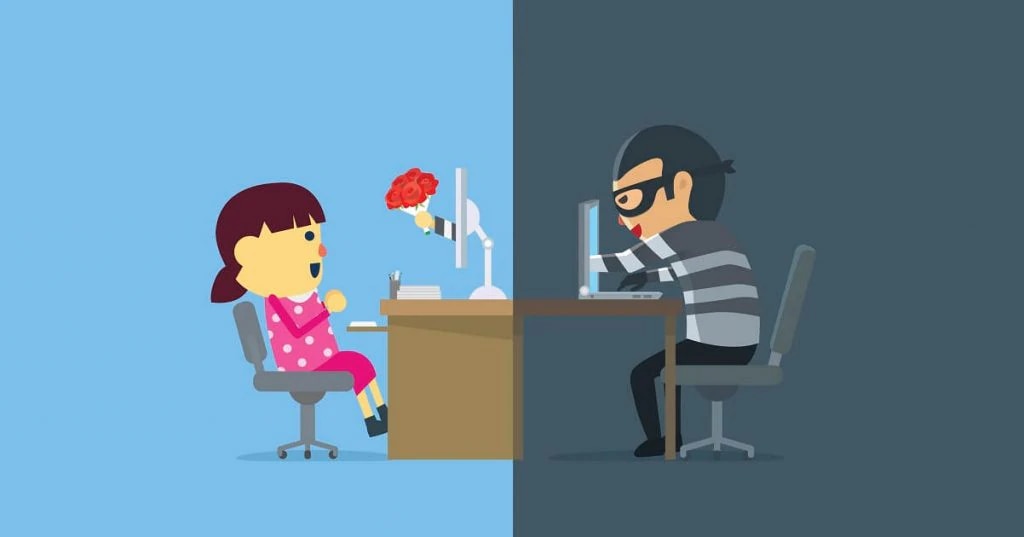 The Internet has opened up a world of opportunity when it comes to finding your soulmate. But it has also opened up more opportunities for fraudsters to scam innocent victims and get away with it.
According to the BBC, online dating scams are occurring at a record high. In the UK, alone, the National Fraud Intelligence Bureau reported "3,889 victims of so-called romance fraud last year, who handed over a record £39m."
While there are plenty of success stories about scoring lasting relationships through online dating, you must also be careful who you place your trust in. Below are ten ways to spot an online dating scammer.
1. Scammers Declare Love Quickly
Those who are trying to get into your wallet don't want to invest too much time. They want to get in and get out. To do so, they feign that you are such an unbelievably charismatic person that they've fallen in love with you at the drop of a dime.
While you may actually be unbelievably charismatic, you'd better believe that those who declare love within days or weeks of meeting you online are not charmed. Scammers use the "L" word quickly to lure you in. Don't fall for it hook, line, and sinker.
2. Scammers Often Want to Take Communication Off the Dating Site
If you come across someone who is eager to take things offsite, be wary of them. They're likely looking for more information about you through your social media accounts, which they can use to their advantage.
3. Scammers Ask for Personal Info
When you're unwilling to communicate offsite, they will ask you for financial or other personal information directly. This type of info should be off the table in any case of online dating.
4. Scammers Request Money
You may have invested a lot of time and emotion into a potential online scammer, as they have seemingly invested the same into you. This is when things will start going horribly wrong for the scammer.
Their son is in the hospital. They were robbed. They can't afford their visa to come visit you.
Whatever the case is, don't ever send money to someone you've only met online. That someone is bound to be a fraud, and they'll prey on your emotions to get paid.
5. Scammers Dodge Questions
During conversation, scammers often don't reveal too much about themselves. Instead, they spend the time getting to know you, because you're the one who's interesting (or whose money is, anyway).
If you find your conversation partner to be elusive, dancing around your questions, they're probably doing so for a nefarious reason.
6. Scammers Are Repetitive
"I love you. I can't live without you."
Scammers tend to be complimentary, dramatic, and extremely repetitive in their conversations. If your online partner is not communicating anything of value and only complimenting, they're likely doing so mechanically…and they may be conning many like you at the same time.
7. Scammers Don't Want to Meet
Scammers can be quite crafty. Their goal is to glean emotional investment from you so that it will convert to financial investment.
Once you become emotionally invested, you'll likely want to meet this mystery man or woman of your dreams.
But, guess what? They won't want to meet you.
While they may make repeated plans to connect in person with their targets, they won't actually follow through. And they'll have excuse after excuse for the missed connection.
8. Scammers Are Often Much Younger Than Their Targets
How many 20-something-year-old men are interested in 40- to 50-year-old women? Online, there are plenty who are. Same thing goes for young women and old men.
Don't get ensnared by the idea of being with a "younger" partner. The scam is supposed to draw you in, and youth can appear more appealing.
9. Scammers Use Fake Photos
And the "youth" is likely fake. Scammers often use fake photos that they find online and steal for their profile pics. Hey, if they're planning to steal your money, it's no surprise that they've stolen someone else's identity to do it.
Tip: If you think your online partner is a scammer, do a reverse photo search of their profile pic on Google. You may come across the pic under another name, which means your "love" may be a fraud.
10. Scammers Don't Want to Talk Over Video or Phone
Scammers are leery of taking your call. Most of them are not nationals from whatever country they may be claiming, and unless they're a whiz at accents or disguises, they're not going to be able to pull off their scam for long if they video call or phone you. Especially if they're using a fake photo.
This article is not meant to scare you away from online dating. It's meant to help you date smartly over the web and spot a scammer if one attempts to reel you in. Enjoy the dating opportunities the World Wide Web has to offer, but be cautious about who you meet…as you would be in the Real World.
Follow these tips and meet new people safely on UniformDating today!