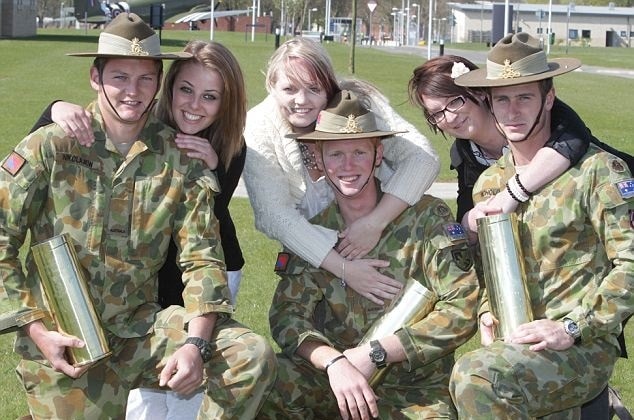 Women love men in uniform and military men love a girl who is built strong and knows how to look after herself, because they can't be around them 24/7. However, where dating a military man can be great for someone looking for a loyal relationship, others face difficulty in keeping things going. This is because it's almost impossible to build a relationship when your love is thousands of miles away, serving the Australian Armed Forces. But, there are a few ways to keep the romance fresh, especially when your love is returning home. So, follow these useful tips for dating an Australian military man:
Show Your Pride – You Are Dating a Guy in a Uniform! Double YAY
There is nothing which gives women more pride than to date a guy wearing the Australian Military uniform. Don't forget to show your pride when with your lover. Remember, service members fight to defend our country. They are our heroes. And, you are dating one! Therefore, express your pride with words and show how proud you are of him. He will reciprocate with the utmost affection, love, and care a man can ever give.
Enjoy the Fun Facts – You Will Learn about Plenty New Things
Most people in the military travel to many different parts of the world which you may have not seen. Your man has knowledge about different countries and cultures. So, appreciate and enjoy the fun and random facts about places your partner shares with you.
Appreciate His Loyalty – And He Will Love You Endlessly
Dating a guy from the Australian Military means you are prepared for a long-term relationship. Never question the loyalty of a man in uniform, especially YOUR man, and always appreciate him for being loyal and protective. Keep in mind that if you promise the same, your man will be the most faithful companion who will love you fiercely and unconditionally.
Identify the Invisible Wounds – Get in Touch with the Emotional Side
Most soldiers do come back home with post-traumatic stress. They may act weird at first, but there is nothing wrong in that. Just be there for him and enable him to open up and talk about his experiences. Expect a few sleepless nights and awkward silences, but make him believe everything will be alright. Try your hardest to understand and avoid all triggers, such as watching war movies or anything which can remind him of the trauma.
Respect the Bond of Brotherhood – Don't Make the Poor Guy Choose
This may be the most difficult part, as you may often feel like he is giving more importance to his friends than you. However, you need to understand the military is indeed a brotherhood. Your man might not have many close relationships than those made in the military. So, don't think of it as a competition between you and his military friends and invite them over for a drinks or two every once in a while.
So, now that you are familiar with the tips mentioned above, dating an Australian military man and keeping the romance alive won't be a problem.