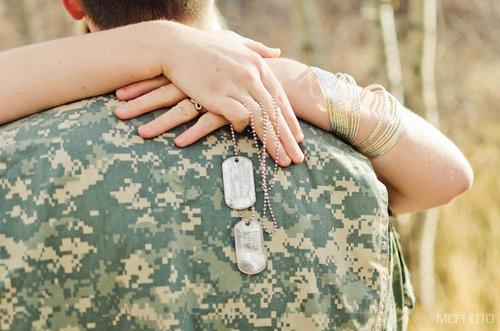 Many people who are in the military have had their fair share of heartaches. It's not enough that they have to be away from home for a long length of time, but they also have to be concerned if their partner is going to be faithful to them while they are away. You would be surprised by how many people say they can handle the lengthy and numerous deployment, but when push comes to shove, sometimes they discover that they can't; and because there are a lot of divorced folk in the military, many of them turn to online dating in an effort to find themselves a quality partner who is going to be there for him through it all.
Military men can be found on countless websites, that much is true. But by joining specially designed websites for singles in uniform, you've got a better chance of finding the military person of your dreams.
You should be aware though that there are some people who will prey on you and your desire to find a match. There are some people who will ask for money for plane tickets, passports, and other things that they feel they can get from you. Granted, not every person on these military focused dating sites are like that—you just have to be cautious.
With that said, you shouldn't feel like you cannot look for love online! Here are some pointers of things that soldiers are looking for when they want to date.
1. They want someone with their own lives.
Folks in the military want to find someone who already has a life that they enjoy living. This means they go out and do stuff, they live for the moment, and they aren't going to put their lives on hold for their significant other. The very nature of dating a soldier requires that you, the partner, knows how to be alone and doesn't need their partner to keep them doing things. Soldiers want you to have your own life and simply make room for them when they come home.
2. They want someone who is interested in getting to know them.
There is more to know about a soldier than what branch of the military they are in, or where they've traveled. A soldier wants someone who is interested in learning more about them. They want people who will listen to the stories they have to share, yes, but they also want someone who is interested in the parts of their life that has nothing to do with their career. They want people to know that they prefer cats to dogs, they enjoy reading classic novels, and maybe even prefer country music to rock.
3. They appreciate the effort you put in to the relationship.
Soldiers are well aware that it isn't easy being in a relationship with them. They understand that you have to go on about your daily life worrying if they are going to see you again or not. However, they appreciate your thoughtful care packages that are intended on making them smile and not miss home quite as badly. They want tangible pictures that they can show off to the other soldiers about who is waiting for them at home. Soldiers want a reminder of what they are fighting for and why they signed up to be in the military in the first place.
4. They want someone who is patient and honest.
Soldiers are going to spend a lot of time away from home, so it's only natural that they want a partner that they can trust. After all, what is the point of being in a relationship with someone if you cannot trust them? The soldier is looking for someone who understands that they are going to get deployed at inopportune times, like during anniversaries, holidays, and other important moments in your life. If you really want to be involved with a soldier, you have to come to terms with this and be okay with it. A soldier cannot dictate when they get deployed or even where they go. It's important that you, as their partner, is ready to pick up and go (if you are looking to get married), you have to be patient and honest while they are gone. You may experience loneliness, but it comes with the territory sometimes.