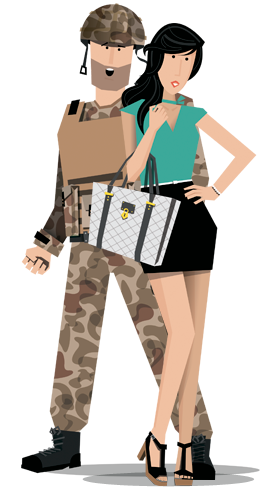 An Armed Forces Penpal - What's All the Fuss About?
You may have heard about people who have forces pen pals. What does that mean? It means you write to someone in the British forces. Often communicating with people back home is what keeps our soldiers going. It gives them hope they will come home and that there's something to come home to.

UniformDating is not a forces pen pal site; we're a dating site. The people who join our site are looking for likeminded singles to get to know and, if there turns out to be chemistry, date. However, as many soldiers are away in training camps, or at war, it helps them make friends and find dates back home. In essence it starts off as you being their pen pal if they're away and can't meet up with you immediately. And who hasn't fancied having an old fashioned pen pal at some point? It's a tad romantic, isn't it?!
Get Armed Forces Penpals Today
So you're curious to meet the dashing men and women in the forces and get free armed forces penpals today. Great. Below you find some tips about setting up your UniformDating profile and how to contact men and women in the forces.

Make sure you have a profile photo…preferably more than one! Show what your life is like through photos.
Do include enough information about yourself in your profile to make people curious to find out more. Keep it light and entertaining and avoid writing too much. Not sure what to write? Enlist two friends to help you to get two different perspectives!
Do not include personal information like address, credit card details and so forth.
Avoid talking about things you don't want in a date. Rather state what you want. Keep your profile positive.
When reaching out to someone through a message, tell them something you liked about their profile and ask a question, so they have something to get back to you about. For example, if they talk about traveling, or cooking in their profile, then ask them for their dream destination, or favourite chef. Keep your first message short and sweet.

If you do find yourself British armed forces penpals and start talking a lot to one of them, connect with them on social media. It tends to give you a fuller view of who they are.
UK Forces Penpals - What It Entails
If you meet someone through UniformDating and become their penpal as they're currently away, what can you expect?

We always say that it's best to expect nothing. If you enjoy writing to someone inhaling a forces penpal, that's great. You're giving them something to look forward to every day as they're away fighting for the country, or undergoing difficult trainings. You're an inspiration to them.

When they come home you will obviously meet up. You won't know if you have chemistry in real life until you do. For some online chemistry translates beautifully into the real world, for others it doesn't. The important thing is to enjoy it for what it is - you have a forces pen pal that might become a real life friend, or partner.

Some people go on 30 dates to find Mr or Mrs Right, others need only one. It's chance really. So the more people you reach out to, the better! And if you find you have online chemistry, then meet up as soon as possible. In the meantime, enjoy being someone who can inspire someone in the British forces by being their pen pal!