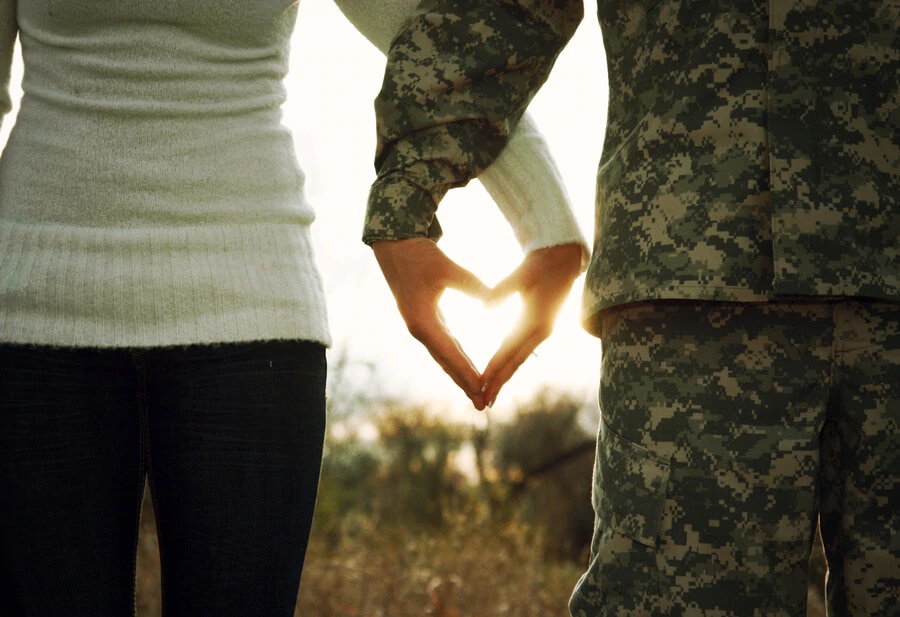 Even throughout history, war could not dampen the love these people felt for their beloved.

1. General Stonewall Jackson's Final Words Were for His Dear Wife.
Most people know Confederate General Thomas Jackson, AKA the notorious "Stonewall" Jackson, for his often ruthless battle tactics and dauntless leadership. Few, however, know of his passionate love for his wife. A fervent Christian, Jackson was incredibly devoted to his marriage to the love of his life, a woman named Mary Anna Morrison. Though he was smitten with her from the beginning, they hit some obstacles when they first began courting — Mary Anna had sworn she would never marry a soldier, a Democrat, or a widower, and Jackson was three for three. She soon got over these concerns, however, and the two were married in 1857.
The couple was inseparable, and Jackson was overjoyed when Mary Anna gave birth to their baby daughter, Julia, in 1862. Sadly, he was wounded by friendly fire at the Battle of Chancellorsville just a few weeks later, but Mary Anna raced to his location and was with him as he drew his last breath. Before he closed his eyes for the last time, Jackson whispered to his wife, "Let us pass over the river and rest under the shade of the trees." Mary Anna chose to dress in mourning black for the rest of her life to honor her beloved husband, and never remarried.
2. 20-Year-Old Olga Watkins Broke Into Dachau to Find Her Jewish Fiance.
Olga Watkins was leading an ordinary, happy life when her fiance Julius Koney was arrested by the Gestapo in 1943 and taken away. Devastated, she ignored the pleas of her family and friends to give up on Julius — who had surely been killed by the Nazis — and instead set out to find him herself. Her quest led her on a 2,000-mile journey from Zagreb through Nazi-occupied Europe, to the gates of Dachau and finally Buchenwald, one of The Third Reich's most notorious concentration camps.
Terrified but determined to free Julius, Olga asked for a job as a secretary in the camp offices and began searching for clues amongst the Nazis who captured her lover. Finally, with the American liberation only days away, Olga got her hands on Julius's documentation — only to find he'd been transferred to Buchenwald. Only half-hoping he'd be alive, Olga rushed to the now liberated and nearly desolate camp — and against all the odds — found Julius, who was recovering from typhus. A few days later, the remaining survivors of the camp joined together to help throw them a wedding, and the star-crossed lovers were married.
3. Civil War Couple Cross-Dressed and Became Union Outlaws to Defy Confederacy.
Keith and Linda Balock loved the Union just as much as they loved each other, so when their home state of North Carolina sided with the Confederacy, they knew it was time to take drastic measures. Realizing that Keith would have to enlist in the Confederate army or risk imprisonment (and probably worse), the husband and wife swore to stay together — even on the front lines. Linda donned men's clothes and posed as "Sam" Balock, Keith's fictitious brother, and the pair entered the army together, planning to defect to the Union as soon as they reached Northern Territory.
Before they could cross Union lines, however, Linda's true identity was discovered, and she was forced to leave. Unwilling to be apart from his wife, Keith decided he would get himself discharged too. The next day he went out to the forest, stripped naked, and rolled around in poison ivy until he could convince Confederate doctors that he had an incurable disease. Once released, the pair fled to the Appalachian mountains, where they lived as Union raiders for the rest of the war and worked to sabotage Confederate military efforts.
Find your endless love on Military Dating Site.