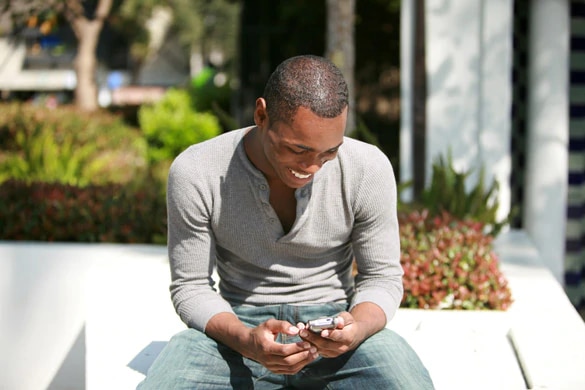 Hey, first off, major kudos to you for actually snagging that chick's phone number. Half the men who try to get a woman's phone fail miserably and it's not for a lack of trying either. They simply don't have the guts to put themselves out there and approach a woman, but you, you my friend, are brave and you were rewarded thusly!
So, now that you've got that coveted number, how do you reach out to her without losing face? It's quite simple actually especially if you follow these tips and try to use these five texts (make them personal of course) to win her over. Ready? Let's go!
1. The Follow Up
When you first meet this girl, she probably told you something, anything, about herself. She probably mentioned her name (you should have already committed this to memory… Or at least saved it on your
phone when you saved her number), but she may have mentioned something else about herself. You'll want to reflect on that initial conversation and pull from it. You'll want to work that into the text. Ask
her how the party was, ask her how the test was… Anything to show that you were listening.
2. The Dive In
If you aren't one for idle chit-chat, you may just want to dive right in and ask her out for a date. There is absolutely nothing wrong with that—in fact, a lot of women prefer not to waste her time with the
mundane. Plus, by getting right to the point, you aren't wasting anyone's time and you are getting right to the point. Sure, you might be nervous when you don't hear from her right away, but think of the relief you'll feel when she does answer you. At least you know where you stand!
3. The Warm Up
We understand that taking the plunge and asking her out could be a big step for some guys, it's cool.
You can take the slower approach by engaging her in a conversation by asking her questions and keeping the conversation flowing. Once you've asked your questions and you feel confident that her guard is down, then you can ask her out on a date. You might realize that she may be into you and be excited by the prospect of going out with you.
4. Mr. Funny Guy
If you don't think that you're charming enough to come right out and have a conversation that flows easily into asking her out, you could always tickle her funny bone and make her laugh. For example, you
could always pull from a conversation you may have had and make it funny. Say she mentioned that she has a penchant for anything to do with cats. You could insert yourself among a collage of cute kittens
and ask her if she adores all kittens, even the abnormally large ones with no fur (hinting at yourself).
5. Make Her An Offer She Cannot Refuse
Let's say you are really into this chick. You could always splurge and pick up some tickets to her favorite exhibit or concert that she may have mentioned wanting to see. Then you could casually ask her if she'd like to join you. If she agrees, then you can really woo her.