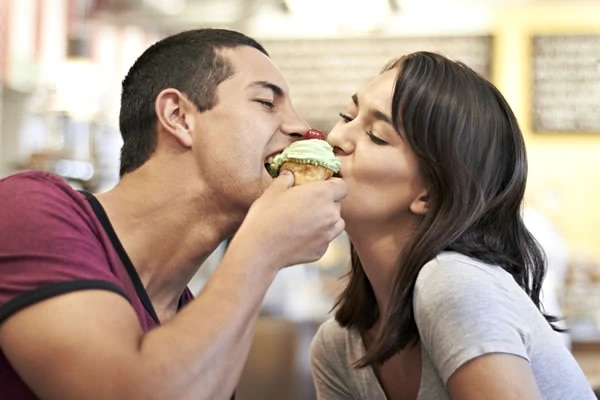 Tis the season to be jolly, fa lala la lala la.
Trying to go out on a lovely date during the holiday season can be a bit trickier than other times during the year; people want to get their Christmas shopping done and because of the mad rushes', the stores are packed with chaos. You can still go on romantic dates without having to hit the madness by trying these dates that are designed with a foodie in mind.
The Bottomless Brunch
Why waste your time and energy on trying to work your way around a hectic mall when you can sit back and enjoy brunch at the Bad Egg near Moorgate? Here, you and your date can people watch, chat, and find the humor in life thanks to the unlimited refills of prosecco or bloody mary's. You get to select three items each from the brunch menu. These items includes pulled pork, tacos, pancakes with syrup, bacon, and a cheeseburger hash. If you're looking for something a bit lighter, you can try the avocado on toast or even granola. The cost is £30 per person for 3 dishes and unlimited refills on alcoholic beverages.
The Ski Lodge
Whether you are taking a break from skiing or you want to sit by the fire and cuddle with your love, visit the Sky Bar at the Courthouse Hotel. The venue is designed to mimic a wooden chalet, complete with holiday ski posters from yesteryear. The rooftop restaurant has an incredible view of the west end of London and is less than a stone's throw from Carnaby Street. This is the perfect romantic day trip for Christmas shipping while checking out the Oxford Street lights. Sip on the themed cocktails while taking in the sights, what a perfect date. The prices range per item: cocktails £9.50 – £12.50, small bites and sliders start at £6.95.
Crazy Golf Cocktail Date
What do you get when you combine festive alcoholic beverages with a game that requires balance and visual perspective? A fun evening at Birdies Pop-up golf! This activity is only available in December in the underground tunnels of Waterloo station. The course features 9 holes and is complete with fun challenges that makes the game incredibly fun. The Caddy Shack cocktail bar serves up fun drinks with fun names and there are fancy food pop ups for you to sample. Entrance £3 per person, a round of golf is £9 per person; each session is timed to avoid slow play. Booking is advised, though walk-ins may be accommodated – sign up on arrival. Various charges for food and drink. Opening times: Tues-Thurs 4.30pm-11.30pm, Fri 4.30pm-11.30pm, Sat 1.30pm-12.30am, Sun 1.30pm-10.30pm.
A Japanese Christmas Party
Christmas food dates aren't all about roasted goose and steamed Brussel sprouts. You can forego all of that and choose some sake and sushi to share with your date. Night Tales is a Shoreditch pop-up party specialist who launches Tokyo Nights. You can sign up to receive an exclusive taste of Japan supper club. Along with traditional Japanese dishes, you also have American diner fare with a Japanese flair. Entrance is free on a first-come first-serve basis, queue-jump tickets can be ordered online. Various charges for food and drink. Supper clubs need to be booked in advance – a five course Japanese tasting menu is £35 per person.
Christmas Afternoon Tea
Traditionally, afternoon tea on Christmas is a formal event, but you can take the edge off by visiting the Reform Social and Grill in the Madeville Hotel. Here, you and your date can have your choice of tea, mulled wine, an assortment of sandwiches as well as a wide selection of festive treats like brandy minced pies, Dundee Christmas Cake, chocolate yule log and Santa's short bread. The design of the venue is modeled after gentlemen's clubs from days gone by. It costs £26.50 per person, but the experience is priceless.
Spiced Rum Pop-Up
Instead of dreaming of a white Christmas this year, try imagining a black one instead. Kraken Black Spiced Rum has opened a pop-up Christmas tree shop which sells real black pine trees, black mistletoe, black wreaths, poinsettias, and Christmas cards. While this could be a bit depressing, it is definitely a change from the normal cheerfulness. You can lighten the mood by visiting the rum bar inside that serves a wide variety of cocktails using the namesakes rum. Open for one week only from 9th-13th Dec. Entrance is free, cocktails are £6 each. Open Wednesday and Thursday 12.30pm-11pm, Friday 12.30pm-12am, Saturday 10am-12am, Sunday 9am-4pm