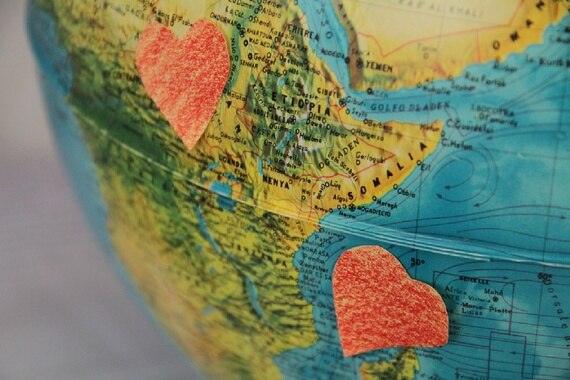 Anyone who has ever been in a long distance relationship can tell you that there are certain things that most couples take for granted, like cuddling and physical intimacy, the feeling of longing for the other person at the end of the date, and the way your lips tingle after a great kiss. But on the flip side, there are some sweet things that these long distance couples get to enjoy that other couples do not.
1. Receiving a surprise care package.
Technology and instant communication has become the norm when it comes to communicating with our loved one. Because of this, just imagine how special your partner would feel when you send them a care package via snail mail? Oh yes, snail mail isn't just something for bills, unwanted magazines, and pre-approved credit card applications! The first time they see a hand-written envelope addressed to them or open a package of their favorite things that reminds them of home, they'll be on cloud nine and love you all the more.
2. Enjoying a virtual date.
While it may not be as romantic as holding hands during a movie at the theater, you can watch a movie together via any streaming service. If you both want to see the latest release in the theater, you can plan to see said movie and then call each other afterward to talk about it.
3. Sending a private snapchat.
Spice things up with an impromptu snapchat that are sure to let them know just how much you miss them. Being apart from one another for any length of time is difficult, so it's only natural that you will feel playful and tease them a bit.
4. Staring at the sky while on the phone.
Stare up at the night sky while talking to your love can be incredibly romantic. These moments under the stars can make you miss your love so much more, but knowing that you are together under the same blanket of sky makes things a little sweeter.
5. Reading the same book.
Much like going to the movies and talking about it afterward, you can start a book club just for you and your partner. You could do this one of two ways: each of you takes turn reading to one another while the other follows along, or read a chapter in your spare time and the next time you talk on the phone, discuss what you've read.
6. Realizing your partner is the most important thing in your life.
Sometimes we become so infatuated  with our partners, we forget about other things in our lives that we enjoy. However, because you're in an LDR, you have time to focus on these interests and jobbies that you may not get to enjoy otherwise.
7. That embrace after months of not seeing each other.
There's nothing like counting down the days until you get to see each other. Then, once that day comes, you can wrap your arms around your beloved and hug them tight and let the entire world melt away because in that moment, they are the only thing you care about.