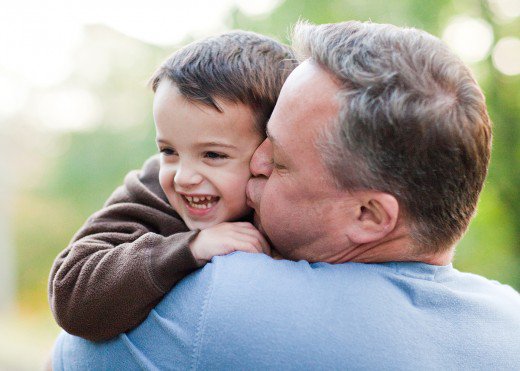 Father's Day is right around the corner, and if you're like many people, you're probably scrambling trying to think of something cool to get dear ole' dad for his special day.
People understand that their day is intended to celebrate the men in our lives who have helped raise us, but do you know why such a day exists?
On July 5, 1908, Grace Golden Clayton was able to get the community of Fairmont, West Virginia to observe "Father's Day" in the Williams Memorial Methodist Episcopal Church South (which is now known as Central United Methodist Church). She suggested to Pastor Robert Thomas Webb to honor all of the men who were killed as a result of the Monongah Mining Disaster, which took place in December 1907.
The holiday was picked up on June 19, 1910, in Spokane, Washington and was held at the YMCA by Sonora Smart Dodd. Her dad, a civil war veteran, was a single parent raising six children in the city. When Dodd heard of Jarvis' Mother's Day, she said to her pastor that fathers should have a similar day to honor them. At the time, she suggested June 5th, her father's birthday, but the clergy didn't have time to prepare anything. So, instead, they accepted that their day should be held on June 19th. On that day, people could attend church ceremonies where there were sermons being given that honored fathers all over the city.
Although the holiday grew momentum over the years, it didn't become a nation-wide event until 1924 when former President of the United States, Calvin Coolidge spoke in favor of the holiday. He said that Father's Day would (according to the Library of Congress Wise Guide) "establish more intimate relations between fathers and their children" and "impress upon fathers the full measure of their obligations."
The holiday would continue to gain notoriety during the Second World War, and it would become an officially recognized holiday in 1966 when President Lyndon B. Johnson. He would declare the third Sunday in June would be known as Father's Day. Richard Nixon made the holiday a federal event six years after that in 1972.
Today, we observe the holiday show respect for the men in our lives who help shape us. Along with this information, here are some more interesting facts about the holiday you may be unaware of.
1. According to data collected by the census, there are over 70.1 million fathers in the United States. Of those men, about one-third are married with children who are under 18 years old.
2. According to that same data, there are approximately two million fathers in the nation that are single, for one reason or another.
3. Although Mother's Day is considered to be a day to pamper your mother and people have a habit of spending a bunch of money on gifts for her; there are studies that show that this Father's Day will reach close to $12.7 billion in sales this year. With consumers spending about $115.57 on gifts for dear old dad, this estimate is about $2 more per gift than last year.
4. Even as much as we are spending on our fathers, it still isn't nearly as much as we spend on Mother's Day. American's tend to spend $21 billion annually on our mothers.
5. Although we may not shower dad with expensive gifts, we love sending greeting cards. Of all the holidays, Father's Day is the fourth most popular to send a greeting card. Christmas, Valentine's Day and Mother's Day beat out Father's Day for most cards sent.
6. Of those greeting cards that are being purchased for fathers, 20% are purchased by their wives.
7. Gone are the days where women were the ones who would stay home and care for the children. There are about 214,000 men who say they are stay-at-home dads in the United States alone.
8. While most of the world celebrates Father's Day on the third Sunday of June, people in Thailand celebrate it in December, as it is King Bhumibol Adulyadej's birthday. On this day, you will see everyone is wearing yellow clothing.
9. If you're in Germany of Father's Day, you'll find men having a gold old time in beer gardens, drinking and being merry.