Congratulations to Alida Zamparini who recently won the 2014 UniformFoodies and Michael Caines Blogger Competition. The cook off challenge was a joint effort organised between UniformFoodies and Uniformdating, and judged under the expert eye of professional TV chef, Michael Caines.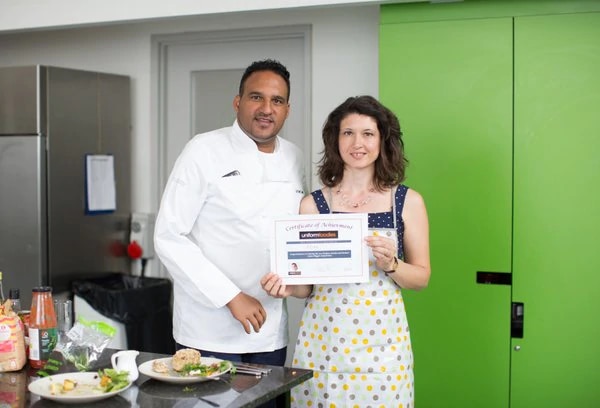 So what is UniformFoodies? It is an online network of foodies who love to cook and share their dishes on the UniformFoodies app. The app enables them to download up to 15 romantic recipes of some of the UK's most-loved dishes developed by the two Michelin-starred Michael.
But more of that later… Back to Alida. Originally from Italy, she shook off stiff culinary competition from the two other finalists, Vicky, blogger at The Free From Fairy, and Nova of Cherished by Me.
Delicious dishes for a date in uniform
Alongside cooking for Michael, the cook off required Alida to pull out the stops, making a dish that would be delectable for any date in uniform. She prepared a Mediterranean Lemon Chicken Salad with rosemary new potatoes. Such a delicious dish would get any military, aviation or emergency service professional smacking their lips, especially as a light summer meal for those wanting to look trim in their uniform on their date.
A modest winner, Alida paid tribute to the other contestants by saying: "Vicky made a Malai Kofta curry, and Nova a warm goats' cheese and pancetta salad with walnut soda bread. I loved both dishes. I really liked the delicate taste of the soda bread with the melted goat cheese and salad; the curry was creamy, flavoursome and with all those crunchy cashew nuts very addictive. I would not know which one to pick!"
A top tip from a top chef
Meanwhile, under the watchful gaze of Michael, Alida was able to squeeze in some questions to this uniformed celebrity chef. She added: "I asked Michael cookery tips such as: Do you season your meat before cooking it or afterwards? I have always being in doubt about this one. Some people say it gets tough if you season it before. He said seasoning before cooking it is perfectly fine. There you go, a tip from a top chef!"
And the prize was
"A night with posh dinner at Michael Caine's hotel, Gidleigh Park. What a treat!" Alida enthused.
Alida – so who's behind the apron?
With her name meaning 'little winged girl', Alida has certainly taken flight where Italian cooking is concerned. She runs her professional blog, My Little Italian Kitchen, which is brimming with quintessential cuisine from the land of home cooking. Alida Zamparini blogs about her foodie adventures and provides fantastic photos of the final results, detailing how to make the recipes yourself.
On summing up, Alida said of the 2014 UniformFoodies and Michael Caines Blogger Competition: "I'm so proud and so happy. How could I ever forget this experience!"
Why not share your own recipes and get hold of 15 unique dishes from Michael downloading the UniformFoodies app. Oh, and do tell us all about them in the comments boxes below