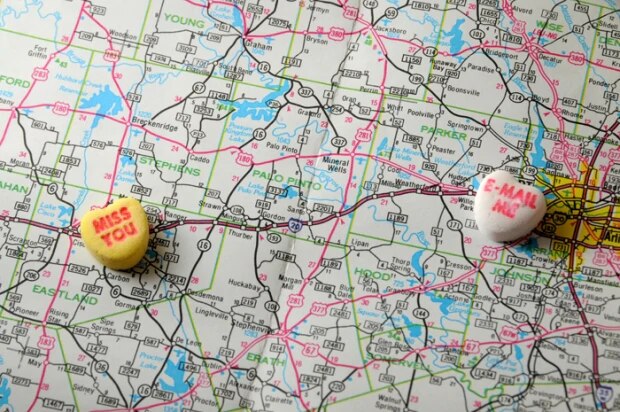 If you find yourself in a long distance relationship, you may not be as excited for Valentine's Day this year. No one really wants to be reminded that the love of their lives aren't there with them and they will probably be spending the holiday for lovers alone. Sure, you could make arrangements to spend a "make up Valentine's Day" with your sweetie at a later date, February 14th isn't going anywhere.
This doesn't mean you can't do something nice for your love on this day though. Here are some ideas on how to make the holiday a little more bearable even though your love is far away.
1. Have a digital wake-up date.
What this means is make plans to call one the other at a specific time and say good morning. There is something truly endearing when you wake up and the first thing you hear is the sound of your lover's voice. If you cannot access a phone, you could always send a voice recording via email, an electronic card, or just post a video message onto their Facebook. One way or another, they will get the message.
2. Send a special delivery.
If you're unable to spend the holiday with your sweetheart but you want to give her flowers, you can arrange for the florist deliver a bouquet of flowers with a special note penned just for her. Of course, it doesn't have to be just flowers. You could have her favorite bakery send over her favorite treats, her favorite lingerie company deliver a pair of undergarments that you cannot wait to see her in, or anything of the like.
3. Create a scavenger hunt.
With this option, you may have to ask one of your friend's to help out. You could create a list of places for them to go that mean something special to you. At each location, have your friend supply your love with a new clue that will send them to the next location with the ultimate surprise being a carefully planned surprise—it could be a romantic candle lit dinner somewhere special, it could be the theater when you went on your first date, the possibilities are limitless.
4. Make a long-distance movie date.
While you may not be able to snuggle on the couch next to your love, you can always set up Skype and watch a movie together. Grab a bottle of your favorite wine, a pizza, and snuggle under the covers with your computer. Yes, it may not be the same as laying in their arms, but it creates the intimacy that they are nearby.
5. Create a top 10 list.
On this list, you will want to tell them all the reasons why you love them. This day isn't just about showering them with gifts, but it is also intended to remind them why you love them and what about your relationship you appreciate the most. Valentine's Day doesn't have to be a commercialized holiday if you don't let it be. Remember, it's all about the people you love.