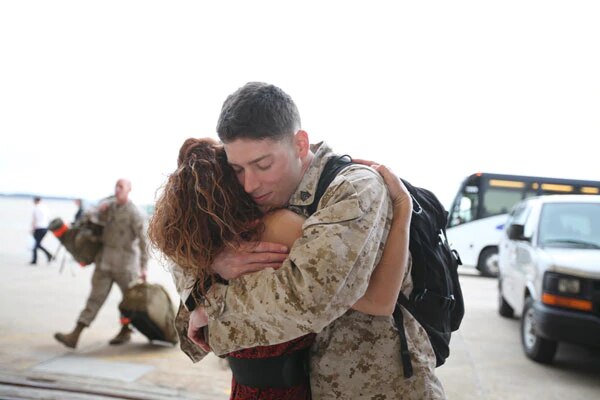 As much as we want you to feel safe and secure while you try to find a soldier in the army to date, we have to warn you that there are some people who will take advantage of you and scam you. Here are some tell-tell signs that the person you may be talking to isn't exactly who they say they are.
1. Denied Leave
It is impossible to be denied leave if they have been overseas for a few years. So when they say that you won't be able to meet any time soon because he isn't granted leave, that is a big red flag that they are a phony.
2. Needing Permission
When you ask what they do, specifically, and you are told that they cannot tell you details unless they ask a CO first. This is usually followed by a list of fabrications. In all honesty, if they weren't allowed to tell you what they do, then a CO wouldn't magically say, "Hey, go ahead and tell your family and other people about our operations." It doesn't work like that.
3. Top Secret Mission
It is understandable that there are some things that they cannot tell you. When the soldier tells you that they are on a top secret mission in XYZ country and they cannot tell you about it, if it were true, they wouldn't even tell you that much. And another thing, any special operation soldier who is worth is title would never even reveal his location!
4. No Mailing Address
Just so we are clear, everyone in the military, even if they are Special Ops or are on a classified unit, has an APO address. So if they ever try to tell you that you can't send them mail because they move around too much — it's a load of hogwash.
5. You Have to Request Their Leave
Seriously? Just stop for a moment and think to yourself: "If I have to request their leave, wouldn't all spouses be doing that?" Any branch of the military does not allow family members to request leave for anyone enlisted. In fact, in cases of the death of an immediate family member, the American Red Cross has to verify the death before the soldier's commanding officer is even contacted.
6. Help Their Child
We've all been there when we hear a heartbreaking story that involves a child. When you find yourself talking to a soldier and they whip out this sob story and ask you for monetary help because they cannot afford the cost of medicine or surgery, do not believe it. All dependents are covered by Tricare — an amazing insurance plan for soldiers. A real soldier is not paying anything out of pocket for their healthcare, or the healthcare for their dependents — regardless of how big the medical problem is.
Now keep in mind, not every person you talk to is lying to you! There are some incredible people to be found online—you just have to be smart and not get suckered in to obvious lies.